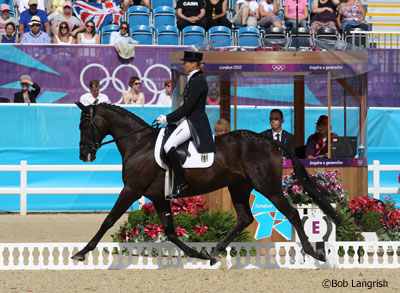 Ingrid Klimke and Butts Abraxxas of Germany are in the lead after the first day of three-day eventing competition at the 2012 London Olympics. Photo: Bob Langrish
The first official day of competition at the 2012 Olympics included equestrian in the form of eventing dressage. Dry, favorable weather prevailed as the first half of the eventing athletes took to the arena in Greenwich Park.
The Germans are the dominant force in equestrian sports, and they started out with a bang. Ingrid Klimke of Germany finished the day in the lead with 39.3 penalties. Klimke rides Butts Abraxxas, a 15-year-old Hanoverian gelding named for his breeder, Fritz Butt. She barely squeaked past teammate Dirk Shrade, 34, who rode King Artus to the day's second best score of 39.8 penalties. Just behind him on the leaderboard is British rider Mary King who performed a precise test with Imperial Cavalier on home soil today, earning 40.9 penalties from the judges.
American Boyd Martin had the tough position of being the first rider to compete this morning. He turned in a solid ride with Otis Barbotiere, scoring 50.7 and finishing the day in a tie for 13th place out of 37 riders. Karen O'Connor and Mr. Medicott were the second Americans to go. O'Connor held her energetic mount together for a score of 48.2, ending up in 9th place. Tiana Coudray and her lovely gray Ringwood Magister were the final Americans on the schedule for day one of eventing dressage. The pair earned a 52.0, putting them in 18th overall.
On the leaderboard for team competition, Australia is currently in the top spot with Germany in second. The United States is holding on to third place.
The dressage phase of three-day eventing concludes tomorrow. American riders Will Coleman and Phillip Dutton will compete, along with 2010 Alltech FEI World Equestrian Games gold medalist Michael Jung of Germany and home team gold medal hopeful William Fox-Pitt.
Follow all the Olympic equestrian news at HorseChannel.com/Olympics.