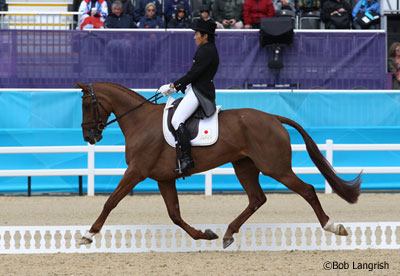 Yoshiaki Oiwa of Japan with his Selle Francais mare, Noonday de Conde, is in the lead after the dressage phase of three-day eventing at the 2012 London Olympics. Photo: Bob Langrish
With so many strong riders from the world of three-day eventing competing in this year's Olympics, it might be a surprise to see an amateur rider out of Japan at the top of the leaderboard at the conclusion of the dressage phase. Yoshiaki Oiwa, a 36-year-old public relations professional, is in first with just 38.1 penalties in their test. Oiwa rides his own 11-year-old Selle Francais mare, Noonday de Conde, and today surpassed his own coach, German rider Dirk Shrade. Shrade finished yesterday in second but was bumped down to 6th after today's competition.
Italian rider Stefano Brecciaroli is in a very close second place with 38.5 faults. Rounding out the top three places is Mark Todd of New Zealand with Campino. Todd was the last rider to compete today, and made sure the dressage phase ended on a high note, earning a 39.5.
American riders Will Coleman and Phillip Dutton both had excellent rides today. Coleman and his 16-year-old Twizzel performed an effortless test for a score of 46.3 putting them in 26th place. Dutton rode his rising star, Mystery Whisper, to a 44.3 and 19th place overall, making them the highest placing Americans heading into the cross-country phase.
Although they no longer have any riders in the top three individual spots, the German team's consistent performances have kept the team ranked in first place. Australia is in second place, thanks in part to husband-and-wife team of Lucina and Clayton Fredericks, who both finished today in the top 10 individually. The home team of Great Britain is hanging on to third place. In spite of good performances today, the United States has dropped to seventh position.
Everything could change tomorrow when the riders tackle the cross-country course. Competition begins at noon London time (7:00 a.m. EDT).
See all Olympic equestrian news at HorseChannel.com/Olympics.