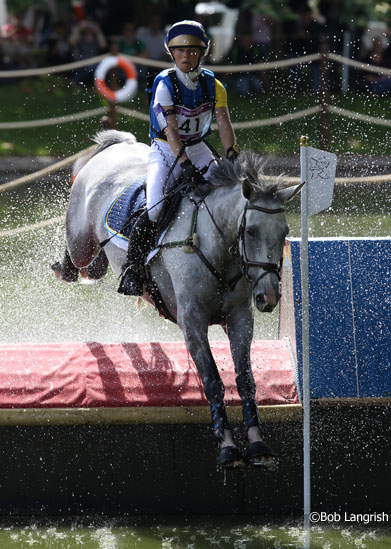 Sara Ostholt Algotsson and Wega are tied for first place with Ingrid Klimke after the cross-country phase of eventing at the 2012 London Olympics. Photo: Bob Langrish
Spectators packed the picturesque cross-country course in London's historic Greenwich Park for the second phase of Olympic three-day eventing. The 10-minute course utilized the natural, hilly landscape of the park and included a detour through the stadium where dressage and jumping are held.
German Ingrid Klimke, daughter of dressage legend Reiner Klimke, is tied for the lead after a faultless cross-country round with Butts Abraxxis. Sara Ostholt Algotsson of Sweden shares that lead after a double-clear round with her horse, Wega. New Zealand's Mark Todd, 56, took a few years off from competing in eventing prior to the 2010 Alltech FEI World Equestrian Games, and he's come back in a big way. Todd currently stands in third place after clocking just .4 time faults with Campino.
Ingrid Klimke and Butts Abraxxis. Photo: Bob Langrish
The German and British teams traded places for first and second position on the team scoreboard throughout the day. The German team, which consists of Klimke, Sandra Auffarth, Dirk Shrade, Peter Thomsen and Michael Jung, came out ahead and will lead the way into the stadium jumping phase. The home team from Great Britain had all five riders—Nicola Wilson, Mary King, Zara Phillips, Tina Cook and William Fox Pitt—finish cross-country without a single jumping fault among them. A few time faults kept them in second place, with the team from Sweden close behind.
The Americans had a good day overall, improving their team standing from seventh at the end of dressage to fourth today.
Boyd Martin of the United States had the task of being the first on course today at 12:30 p.m. local time. He and his Selle Francais, Otis Barbotiere, had a strong, confident ride with no jumping faults and only 3.6 time penalties.
Karen O'Connor was the second American to take the course. O'Connor is competing at her fifth Olympics and her horse, Mr. Medicott, is a veteran of the 2008 games. Their experience was evident as they made the challenging course look like a walk in the park, finishing with no jumping penalties and 5.6 time faults.
Tiana Coudray and Ringwood Magister were the third American pair on course. A refusal at fence three, an angled combination that had caused problems for several horse-and-rider pairs, put 20 penalties on their score. The pair hit their stride and finished the remainder of the course without incident, incurring just 5.6 time penalties.
Will Coleman and 16-year-old Twizzel were next for the Americans and started off with a steady round. They were tripped up by the bank on a very steep hill in the second half of the course where Twizzel's hesitation turned into an all-out refusal, costing 20 penalties. They racked up another 16.4 time penalties for a disappointing finish, but a finish nonetheless.
Philip Dutton, in his fifth Olympics, was the final U.S. rider to compete today. Even with the relatively inexperienced Mystery Whisper, Dutton made the course look easy, finishing with no jumping faults and just 2.8 penalties. Dutton is the highest-placed American heading into the final day of competition, currently standing in 12th place.
The challenging course led to several horse and rider falls. Early in the day, Alena Tseliapushkina of Belarus and her horse, Passat, both fell. The rider appeared to be uninjured while her horse was on his feet, but taken away in an equine ambulance. Later, Canadian Hawley Bennett-Awad had a fall from her horse Gin & Juice. "Ginny" was fine, as evidenced by the riderless gallop she took after the incident. Bennett-Awad was taken to the hospital where she is reported to be in stable condition. Camilla Speirs of Ireland suffered a fall with Portersize Just a Jiff. Both were treated on the scene, but the nature of their injuries, if any, are unknown at the time of this writing.
The team stadium jumping phase begins Tuesday at 10:30 a.m. London time, 5:30 a.m. EDT. Individual stadium jumping will be at 2:30 p.m./9:30 a.m. EDT.
Keep up with all the Olympic equestrian news at HorseChannel.com/Olympics.