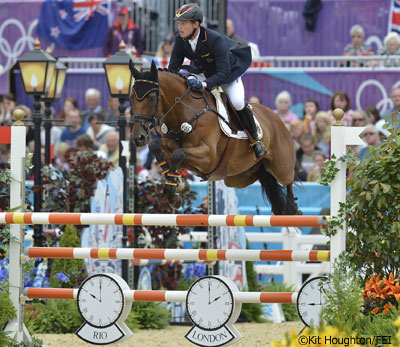 Michael Jung rode Sam to individual eventing gold and team gold for Germany. Photo: Kit Houghton/FEI
The eventers from Great Britain would have loved to win team gold on home soil, and they nearly pulled it off, but the powerhouse team from Germany wasn't going to let that happen.
At the start of the final day of eventing competition, Germany was ahead of Britain by six penalty points. The two teams volleyed the gold medal position back and forth throughout the day, making for an exciting atmosphere in the stadium.
William Fox-Pitt entered the final day in 22nd place with Lionheart, and they were the first British pair to tackle the course. They paved the way perfectly, turning in a double clear round to deafening cheers from the London crowd. Peter Thomsen of Germany rode immediately after, dropping two rails to put 8 penalties on the German team's score, giving the lead back to Great Britain.
Nicola Wilson and Opposition Buzz were next for the Brits. She had just one rail down, but that was enough to give the German team back a narrow lead. Dirk Schrade for Germany followed with a double clear round. Zara Phillips, granddaughter of Queen Elizabeth, was next for Great Britain, and the crowd erupted when she entered the ring. One early rail down and three time faults left Zara with a good overall finish, but widened Germany's lead by another seven points.
Sandra Auffarth of Germany was next, and with a double clear round aboard Opgun Louvo, she squelched any remaining hope of a British takeover. Mary King and Imperial Cavalier completed their round perfectly with another double clear round for Great Britain. Germany's Michael Jung and Sam followed with yet another perfect round. Tina Cook and Miners Frolic were the final pair for Great Britain, finishing with just one time fault, guaranteeing silver for the home team.
Ingrid Klimke and Butts Abraxxis, the German pair that had led the way through most of this year's eventing competition, were the final pair in the team stadium jumping phase. "Braxxi" appeared tired and took down two rails. An added time fault meant nine penalties for Klimke, enough to drop her out of individual gold medal contention, but not enough to squander Germany's lead. The Germans finished the day still holding on to their gold-medal position.
Klimke withdrew from the individual competition after the completion of team event for undisclosed reasons and did not compete for an individual medal.
The tenacious team from New Zealand had entered the final phase in fourth place, but with solid rides from Andrew Nicholson, Jonathan Paget, Mark Todd, Caroline Powell and Jonelle Richards, the Kiwis managed to edge out Sweden for the bronze medal.
Peter Thompsen, Dirk Schrade, Sandra Auffarth, Michael Jung, and Ingrid Klimke won team eventing gold. Photo: Bob Langrish
The U.S. team had a rough start when Boyd Martin made the decision to withdraw Otis Barbotiere before the show jumping phase. The pair had a beautiful cross-country phase, but Otis was noticeably sore following his run. Otis is not seriously injured, but unfortunately was not sound enough to complete his Olympic outing today.
Will Coleman and Twizzel were the first Americans in the stadium jumping arena. The pair cleared the course with no jumping penalties and only two time faults for a successful end to their first Olympics. Tiana Coudray, also a first-time Olympian, had two rails down and three time faults with Ringwood Magister.
Karen O'Connor and Mr. Medicott turned in a flawless round for the United States, adding no penalties to the team's score. Phillip Dutton was the final rider for the Americans, coming into stadium jumping in 12th place. He and Mystery Whisper started strong, but lowered two fences and had an unfortunate refusal that led to 12 jumping faults and 11 time faults.
The United States finished seventh overall.
The top 25 riders returned to the show jumping arena for a second round to determine individual rankings. Two Americans made the cut.
Phillip Dutton and Mystery Whisper continued to have difficulties. With two rails down and five time faults, he was out of medal contention and ended this Olympics in 23rd place. Karen O'Connor and Mr. Medicott still looked fresh as they navigated the course, finishing double clear with a total score of 53.8 and a ninth place ranking.
In the end, the individual rankings came down to the top two riders heading into the final round. Michael Jung, ranked second, turned in a clear round with his horse Sam, putting the pressure on Sweden's Sara Algotsson Ostholt, the final rider on course. She and Wega navigated the course carefully, putting in a flawless round until the final fence. One rail came down, adding four faults to her score and dropping her down to silver medal position behind Jung. German teammate Sandra Auffarth and Opgun Louvo took the bronze
Equestrian competition resumes on Thursday, August 2 with the first day of dressage competition.
2012 Olympic Three-Day Eventing Results
| | | |
| --- | --- | --- |
| | Team Eventing | Individual Eventing |
| Gold | Germany | Michael Jung (GER) |
| Silver | Great Britain | Sara Algotsson Ostholt (SWE) |
| Bronze | New Zealand | Sandra Auffarth (GER) |
Keep up with all the 2012 Olympic equestrian news at HorseChannel.com/Olympics.