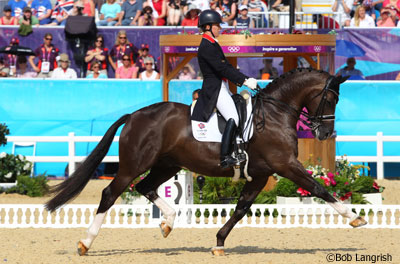 Charlotte Dujardin and Valegro set an Olympic record on the way to winning individual dressage gold with a score of 90.089 in the freestyle. Photo: Bob Langrish.
Two weeks ago, Great Britain had never won a dressage medal of any color in the sport's 100-year Olympic history. Now they have three, and two of them are gold.
After the team of Carl Hester, Laura Bechtolsheimer and Charlotte Dujardin won a decisive victory in the team competition, all three went on to the final phase of individual competition. With strong scores already on the board from the Netherlands' Anky van Grunsven and Germany's Helen Langehanenberg, the British riders had their work cut out for them.
Bechtolsheimer was the first British rider to go. With her longtime partner, 17-year-old Mistral Hojris, she had the ride of a lifetime. Her freestyle to songs from The Lion King earned an 84.339 from the judges, putting her in first position.
Teammate Carl Hester was next, and posted an 82.857 with Uthopia. That was good enough for third position at that point in the competition.
But when Dutch rider Adelinde Cornelissen completed her nearly flawless ride with Parzival, the British riders' medals were in question. Sure enough, her outstanding and well-deserved score of 88.196 skyrocketed her to gold by a comfortable margin, pushing Bechtolsheimer to silver and Hester out of the medals.
The only rider left to go was British phenom Charlotte Dujardin with Valegro. The pair performed as they had all week with an effortless rhythm and flow to a medley of marches that included John William's Olympic Fanfare and was accented with the chimes of Big Ben. Valegro appeared a bit tired by the end, but still gave everything he had. It was evident that they would score well, but Cornelissen's score would be hard to beat.
The stadium erupted when Dujardin's score was posted: 90.089. Not only was that good enough for gold, but it was a new Olympic record. For British dressage fans, this was a perfect ending to what has been a phenomenal Olympic equestrian experience.
Besides being the first British dressage rider to win an individual medal and the first British equestrian in 40 years to win two gold medals in a single Olympics, in what is surely a sign of things to come, Dujardin has the distinction of being the first dressage rider to win a medal while wearing a helmet in her Olympic tests.
While Great Britain had arguably its best equestrian Olympics ever, the U.S. team had less exciting results. After missing the podium in eventing, show jumping and team dressage, the remaining hope was with Steffen Peters and Ravel, the only American pair to make the freestyle. The pair had a good performance, but in a competitive field like the one competing at Greenwich Park today, good wasn't good enough. Their score of 77.286 was only enough for a 17th place finish. Ravel, now 14 years old, will likely be retired from international competition after these games.
See all the equestrian Olympic news at HorseChannel.com/Olympics