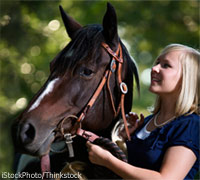 Some students from Lexington, Kentucky middle and high schools will have a unique learning experience starting this year. The Stables program is a partnership between Central Kentucky Riding for Hope (CKRH) at the Kentucky Horse Park, and the Fayette County Public Schools that will give students the chance to learn in a non-traditional environment.
The Stables program is designed for students in grades 7-12 who struggle in traditional classroom settings with the goal of helping them take ownership of their education and transition to work, post-secondary education, or in some cases, catching up with schoolwork to return to their public school.
The program is academically focused, and students will still receive instruction in English, math, science and social studies. Additionally, they will take on vocational and job shadowing responsibilities in a variety of fields. Each school day will include an equine component where the students will be responsible for assisting with the care of CKRH therapy horses and the facility.
"The Stables will provide an amazing learning opportunity for our students, and we could not be more excited to launch this new venture with Central Kentucky Riding for Hope," said Fayette County Schools Superintendent Tom Shelton. "This is an example of the kind of partnerships our school district hopes to build as we seek to meet the individual needs of every single student we serve."
Learn more at www.thestables.fcps.net
Further Reading
USEF launches high school equestrian recognition program
USEF offers grants to high school equestrians