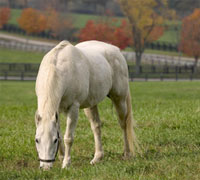 The sights, the sounds, the smells, and the feel of autumn in New England create a sensory spectacle on their own. Add to these the aroma and engaging spirit of the horse, and it is easy to see why Equine Affaire in W. Springfield, MA, is such a highly anticipated event each fall. The magic of Equine Affaire will return to the Eastern States Exposition on November 8-11, bringing its unique blend of education, entertainment, and equine experience and providing horse lovers with their year-end "horse fix" before winter settles in.
Learning from the Best
The program of clinics, seminars, and demonstrations at the upcoming Equine Affaire will have something to offer for horse fanciers of all levels of expertise—from introductory lessons for those new to horses to "advanced studies" for equine professionals.
"We're very excited about the group of clinicians we have assembled for the upcoming event," explained Eugenia Snyder, President of Equine Affaire, "the list of clinicians reads a bit like a 'Who's Who' in the equestrian world, and the seminar and demo presenters we've secured are equally strong in their areas of expertise."
The clinicians who will teach general training and horsemanship topics this November in W. Springfield have diverse backgrounds as equestrians and will provide an interesting blend of approaches to training and riding challenges. These clinicians will include accomplished riders such as:
Guy McLean, a widely-recognized Australian horse trainer and teacher renowned for his extraordinary horsemanship and entertaining performances;
Lynn Palm, an all-around trainer, showman, exhibitor and entrepreneur who, in addition to earning 34 Reserve and World Championships, has performed at the World Equestrian Games, the World Cup, and the 1996 Atlanta Olympics
Mark Rashid, an internationally-acclaimed horseman whose martial-arts honed philosophy is to stay centered and to look for quiet, but effective ways to blend with the horse's energy and help the animal understand what is being asked of him;
Julie Goodnight, who helps focus the rider to become a horse's leader, regardless of discipline, bridging safety and natural horsemanship with classical riding styles;
Ken McNabb, whose goal is to help each horse and rider reach his or her personal best using gentleness and passionate coaching;
Kerry Kuhn, will make his debut at Equine Affaire and share his outlook that good horsemanship can be achieved through good leadership, patience and "positivity."
The 2012 Olympics may be a summer event, but this November attendees will have the chance to rub elbows with numerous Olympians and World champions from across the equestrian community including:
Bruce Davidson (Eventing) who holds four Olympic medals, five world championship medals, four Pan-Am medals, two wins at Badminton, and a record six Rolex Three Day Event wins;
Anne Gribbons (Dressage) who has trained and shown more than a dozen of her horses to Grand Prix; since 2010, she has served as the U.S. dressage coach, guiding the elite riders at the 2010 World Equestrian Games, Pan Am Games, and 2012 Olympics;
Larry Whitesell (Easy Gaited Horses) who has numerous regional, national, and grand national championships since his emergence in the show ring in 1980, as well as Trainer of the Year honors in 2002.
Todd Minikus (Hunters/Jumpers), whose career has spanned three decades and includes more than 75 grand prix wins, five FEI World Cup Show Jumping Finals and six Nations Cup teams;
Barbra Schulte (Cutting & Equestrian Sports Psychology) who is an accomplished cutting horse trainer and competitor, personal performance coach, author, clinician, and equine consultant;
Lisa Singer (Driving) who has been National Pairs Champion nine times and a member of the United States Pair Team at eight World Pair Championship Events;
Jeremy Steinberg (Dressage) who is currently the USEF National Youth Coach;
Kelly Sapp (Reining) who has 20+ years of professional experience and a long list of accomplishments that include wins at the All-American Quarter Horse Congress, Futurity Championships, National High Point, as well as many Congress and AQHA World Show Top Tens;
Molly Powell (Barrel Racing) who is a million-dollar barrel racer who has won an impressive number of events since she joined the professional rodeo at the age of 10;
Geoff Teall (Hunters) who has trained hunter and equitation riders to championships at nationally-recognized shows across the country and is very involved in the governance of hunters, serving on the Board of Directors of the USHJA, USHJA Foundation and the USEF.
If you're more interested in riding on the trail than in the ring, you'll want to catch sessions presented by Scott Hansen. Hansen is a retired mounted police officer who has used his unusual experiences and perspective to create clinics regarding equestrian trail safety and produce an award winning video "Self Defense for Trail Riders". Dan James & Dan Steers of Double Dan Horsemanship will share their secrets about liberty and trick training in addition to wowing audiences in Fantasia each night.
While clinics are being conducted in Equine Affaire's three clinic arenas, additional sessions will take place at the seminar stage in the Better Living Center and the Demo Ring in the Mallary North. Presentations in the seminar stage and Demo Ring accommodate up close, interactive settings with topics ranging from nutrition, soundness, business planning and marketing, equine massage, sports psychology, equine diseases, clipping and grooming, judging, equestrian fitness, equine behavior, tack and driving equipment, equine photography, hoof care, etc.
A sampling of presenters to be featured in these venues include Stephen Peters, MD and Martin Black on equine behavior, development, and neurologic function; Sheila Ryan with alternative therapies, herbs, and animal communication; Dr. Frank Reilly with stem cell therapy; Jochen Schleese on saddle fit; Debi Metcalfe on equine identification; Sandy Siegrist on manure management and eco-friendly horse-keeping; Sloane Milstein with equine careers and college selection; and Cummings School of Veterinary Medicine on a variety of veterinary topics.
Do More Than Attend…Participate!
Clinics at Equine Affaire are not just for watching. Most of the clinicians presenting at the 2012 Equine Affaire will be accepting riders and horses to participate in their sessions as well. Equine Affaire's "Ride With The Best" program offers unique opportunities to receive individual instruction from – or have your horse trained by – one or more of the prominent clinicians who will be presenting at the event. The modest clinic fees range from $65 to $175 and include clinic participation, event admission, and 24 hours of stabling. Clinicians will select the participants for their sessions from written applications and videos submitted to Equine Affaire. For information on the Ride With The Best program and application materials, visit www.equineaffaire.com, click on the Massachusetts event, and follow the Participate link or contact Kristen Gump at kgump@equineaffaire.com or (740) 845-0085, ext. 104. Act quickly—the application deadline is September 7th.
Do you want to work with great people on a great event? It takes a lot of talented and dedicated individuals to make Equine Affaire happen each year, and we're always looking for new volunteers to assist our full-time staff before and during the event. Volunteers sign up for specific "jobs," work two-hour shifts, and earn free admission and an event souvenir. For information on volunteering, visit www.equineaffaire.com, click on the Massachusetts event, and follow the Participate link to the Volunteer tab or contact our Volunteer Coordinator, Cindy Murphy, at cmurphy@equineaffaire.com or (740) 845-0085 ext 102. Get your application in soon; volunteers are scheduled in the order applications are received.
Visit www.equineaffaire.com or call call at (740) 845-0085 Monday-Friday 9:00am-5:00pm Eastern to start planning your trip to the 46th Equine Affaire now.