Photo courtesy American Heart Association
Over 1,500 horses and riders from 22 states will arrive at Lakewood Camping Resort for the 31st annual American Heart Association Beach Ride, October 31 to November 4. This year's 20 mile trail ride will be led by outdoorsman, Tom Seay of Culpeper, Virginia. Seay hosts the top trail riding television series, Best of America by Horseback which airs weekly on the nationally televised RFD-TV network.
"The funds raised will support research projects and educational programs to benefit the American Heart Association," says Sara Nelson, director of development at the American Heart Association. "People across the nation come together to raise funds for this event and contribute to the American Heart Association's 2020 goal: to improve cardiovascular health of all Americans by 20%, while reducing deaths from cardiovascular disease and stroke by 20%."
Event participants will have the opportunity to camp in an oceanfront campground with their horse for four nights and five days. The event includes a meet and greet with Tom Seay, silent auction, vendors, a chili cook off, live entertainment, horsemanship clinics, poker run, costume contest, 20-mile beach ride, karaoke, and an awards ceremony and dinner.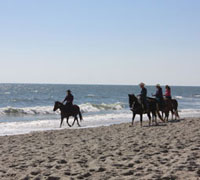 Photo courtesy American Heart Association
Registration can be made online at www.ahabeachride.org or by calling 866-915-6238, Regular Registration for 30th Annual Beach Ride: Adult Riders (age 17+) $150; Youth Riders (age 16 and under) $100; Saddle Club or Group Rate (for 15 or more riders registering as a group) $130. For more information, please call 843-282-2911 or 866-915-6238.
Founded in 1924, the American Heart Association today is the nation's oldest and largest voluntary health organization dedicated to building healthier lives, free of heart diseases and stroke. These diseases, America's No. 1 and No. 3 killers, and all other cardiovascular diseases, claim nearly 870,000 lives a year. In fiscal year 2006-07, the association invested more than $554 million in research, professional and public education, advocacy and community service programs to help all Americans live longer, healthier lives. To learn more, call 1-800-AHA-USA1 or visit heart.org.