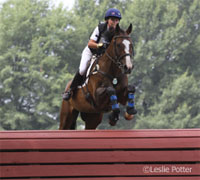 While high-profile events like the Rolex Kentucky Three-Day Event bring the horse world's attention to the sport of eventing, dedicated event riders of all levels will have their eyes on the Nutrena USEA American Eventing Championships (AEC) this weekend.
The AEC is the national championship for eventers from beginner novice through advanced and is divided for juniors, amateurs and professionals. This gives lower-level eventers the chance to compete on a national stage. Horses and riders must qualify by placing at a certain number of competitions during the 12-month qualifying period.
For the third year, the AEC will be held at Chattahoochee Hills Eventing in the Atlanta, Georgia suburb of Fairburn. Chattahoochee Hills is owned by event Rider Carl Bouckaert, a member of the Belgian team at this year's summer Olympics. The AEC have previously been held in North Carolina and Illinois, and next year will move to the Texas Rose Horse Park in Tyler, Texas in hopes of attracting more riders from western states.
Watch highlights from cross-country day at the 2011 AEC below.
Although the event will not be available for viewing online, eventing fans can keep up with the leaderboard at livescore.useventing.com. The United States Eventing Association will also have ongoing coverage on its website.