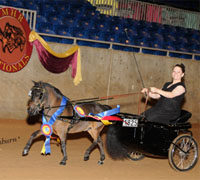 For ten days, Tulsa, Oklahoma will be the center of the Miniature Horse world as the American Miniature Horse Registry (AMHR) National Show takes over Expo Square. Mini fans from around the globe can watch the entire event live at flandersvideoproductions.com.
Miniature Horses are not ridden, but the AMHR offers an array of different divisions for competitors to enter.
Among the most popular Mini classes for exhibitors and spectators are the hunter and jumper classes. Horses are shown in hand on a lead while the handler takes them over a course of Mini-sized jumps. Just like the full-sized counterparts, hunters are judged on their form and style over fences while jumpers are placed based on speed and accuracy. In obstacle classes, horses are led over and through various elements similar to a ridden trail class.
Halter horses are judged on their conformation and are typically divided by age and sex. At the AMHR Nationals, halter classes are also offered for draft types and for solid color and pinto horses. Showmanship classes are judged on the horse's turnout and the exhibitor's abilities as a handler.
Several driving divisions showcase different types of Minis. Park harness classes bring high-stepping, showy Minis to the arena to be judged on their brilliant performance. Country Pleasure Driving and Open Pleasure horses are judged on their performance and manners. Roadster classes put drivers wearing racing silks in two-wheeled sulkies as their Minis show at a jog trot, road gait and trot at speed. One especially unique division at AMHR Nationals is the Roman Chariot class, where drivers ride in replica chariots and dress in Ancient Roman costume.
Liberty classes are always a crowd favorite, as handlers remove all tack from their horses and let them run free to music one at a time in the arena. Horses must demonstrate a trot and canter and are judged on their gaits and style.
Learn more about AMHR Nationals at shetlandminiature.com or watch the show live at flandersvideoproductions.com