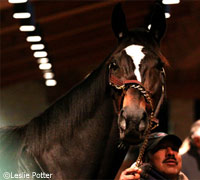 One of the most popular race horses in recent years, Zenyatta earned her place in Thoroughbred history during her nearly undefeated career over the course of three years. Now, the beloved mare will have a permanent presence at Santa Anita Park in California, the site of her monumental 2009 Breeder's Cup Classic victory.
The new statue was created by artist Nina Kaiser, who also created a statue of the legendary race horse John Henry for Santa Anita Park. Kaiser is also the artist behind several racing trophies, including the Breeders Cup.
Watch below as Kaiser takes Zenyatta's measurements to ensure an accurate depiction for her bronze likeness.
The life-sized statue will be officially unveiled on Sept. 29, the first Saturday of the autumn meet. Zenyatta will also be recognized with the first-ever running of the $250,000 Zenyatta Stakes. The race was formerly known as the Lady's Secret, and was renamed for the mare who won it in 2008, 2009 and 2010.
Zenyatta is well-known for having won 19 of her 20 lifetime starts, and was narrowly defeated in her final race as a six-year-old, the 2010 Breeders' Cup Classic where she finished a close second behind Blame. Among her accomplishments were a win in the 2009 Breeders' Cup and the title of Horse of the Year in 2010. She became a fan favorite at Santa Anita where admirers were often able to see her up close, and her owners and connections were given a special Eclipse Award in 2010 for the positive impact they'd had on Thoroughbred racing.
After retiring from racing, Zenyatta transitioned to a second career as a broodmare at Lane's End Farm in Kentucky. Her first colt, sired by Bernardini and still officially unnamed, was born on March 8, 2012. She is currently in foal to Tapit for 2013.