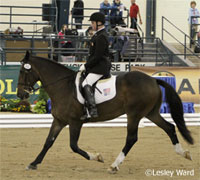 Jonathan Wentz and NTEC Richter Scale represented the U.S. at the 2010 Alltech FEI World Equestrian Games. Photo: Lesley Ward
Jonathan Wentz, a member of the U.S. Para-Equestrian team at the 2012 Paralympics and 2010 Alltech FEI World Equestrian Games, passed away last weekend. Wentz, 21, had been training and seeking sponsorships for the 2014 WEG in France.
On Oct. 1, 2012, Wentz's parents, Tina and James, posted the following announcement on his
official Facebook fan page
.
It is with a heavy and numb heart that we notify everyone of the tremendous loss of our precious son and Jonathan. He was taken suddenly from us and has left a hole in our lives that will never be filled. He loved life and lived it each day giving his all toward his riding, school, family and friends. We do not understand why his life on this earth was so short, but we celebrate every day we were given to love, laugh, and enjoy our amazing son, and we rejoice in the knowledge that he is with his Lord riding and running like never before. Thank you to everyone who shared a part of his life.
Wentz was born with cerebral palsy and began equine-assisted therapy at age 2. When he was just 5 years old, he began riding for sport. During his early years, he competed in dressage on several different borrowed horses, already setting his sights on the Paralympics when he was just 13. NTEC Richter Scale, a 1994 Shire cross gelding, entered Wentz's career in 2009. Wentz and Richter's achievements included qualifying for and competing in the 2010 WEG and winning the 2011 National Para-Equestrian Dressage Championship in Grade 1b.
Wentz trained with Kai Handt at the North Texas Equestrian Center. He was a senior at Southern Methodist University, studying history, medieval studies and political science. In addition to continuing his international equestrian career, Wentz had planned to attend law school.
A celebration of Jonathan's life will be held on Saturday, October 6, 2012 at:
Grace Bible Church
11306 Inwood Rd.
Dallas, TX 75229
Donations in Jonathan's honor may be mailed to:
United States Para-Equestrian Association
Jonathan Wentz Scholarship Fund
3940 Verde Vista Drive
Thousand Oaks, CA 91360
The USPEA is a 501(c)(3) and all donations are tax-deductible.
Donate at www.USPEA.org by clicking the red "Donate Now" button at the bottom of the page. Please specify that the donation is for Jonathan Wentz Scholarship Fund. Any questions about donating can be e-mailed to donate@uspea.org