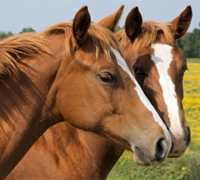 The American Quarter Horse Association has sent out the call for equine research projects for 2013-2014. Through this funding program, the AQHA and American Quarter Horse Foundation help promote research in areas related to equine health and welfare.
Among the grants awarded is the Refrigerator Fund, named for the late Quarter Horse racing champion. This fund is reserved for research related to equine head trauma, including prevention, treatment and diagnostics. Refrigerator, who was in training for a second career as a roping horse after retiring from racing in 1995, died at age 11 after sustaining a severe head injury in an accident.
The AQHA has added a new grant this year specifically for graduate students and veterinary or medical residency interns. The Young Investigator Award is designed to assist emerging researchers in pursuing equine health and welfare subjects.
According to the AQHA, funding from these grants has helped in these areas of equine health:
Advancements in controlling and treating laminitis
Validated the diagnosis of equine infectious anemia (EIA)
Studies of musculoskeletal injuries in performance and racehorses
The effects of strenuous exercise on navicular bones of young horses
Anatomical and functional consequences of tail alterations
Discovery of the cause of hyperkalemic periodic paralysis (HYPP), development of a specific DNA test for HYPP and recommendations for management of horses afflicted with HYPP
Established the feasibility of using DNA markers for routine parentage verification
Discovery of the cause of hereditary regional dermal asthenia (HERDA) and development of a DNA test for HERDA
Discovery of the cause of polysaccharide storage myopathy (PSSM) and glycogen branching storage deficiency (GBED), development of a diet to manage tying up and creation of a DNA test for both GBED and PSSM
The inspiration for the AQHA's equine research programs came about at the 1960 AQHA convention. The members were warned of several serious equine diseases and the need for research to help combat them. Since then, the program has awarded more than $9 million in research grants.
For more information, visit AQHA.com.