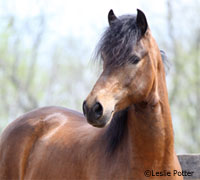 Fall is the season of championship horse shows, and thanks to more widespread use of online streaming, equestrian fans can watch all the action from many of these shows from the comfort of their own home. The 40th annual Paso Fino Grand National Show, Oct. 7-13, will stand out from the others, showcasing the distinct gaits and presence of the Paso Fino horse.
Brio is a Spanish word meaning "spirit," and the term is used to describe the energy of the Paso Fino . This year's Grand National is titled "Brio in the Bluegrass" to mark its first time being held at the Kentucky Horse Park.
Paso Finos showcase their smooth, quick-stepping gait under saddle and in-hand. The Grand National will also spotlight Pasos in exhibitions for some non-traditional activities. The 2nd annual Paso Fino Cowboy Mounted Shooting Competition will take place in conjunction with the show, along with Paso Fino Horse Soccer demos and clinics. The show also features speed events including barrel racing and pole bending.
The show is included with the price of admission to the Kentucky Horse Park, and evening sessions are free for spectators. On Friday, Oct. 12, admission is free all day for veterans and active military as part of the Kentucky Horse Park's Military Appreciation Day. On Friday and Saturday, visitors can sign up at the Paso Fino Horse Association booth to participate in the Ride a Paso Fino program and experience the breed's gaits firsthand.
For those unable to visit the Kentucky Horse Park, the show is being broadcast live online for free at USEFNetwork.com. For more information on the show, including a full schedule of special events, visit PFHA.org.
Further Reading
Video: Gaits of the Paso Fino