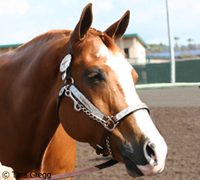 There's only one place to be in the month of October for fans of the American Quarter Horse, and that place is Columbus, Ohio. Since 1967, Ohio has hosted the All-American Quarter Horse Congress, now the world's largest single-breed horse show.
Approximately 6,000 Quarter Horses will be at the show during its three-week run from Oct. 5 through Oct. 28. The legendary Congress trade fair spreads across seven acres and, along with the show, attracts 650,000 people to the area.
In recognition of the event's importance to Columbus, Mayor Michael Coleman rode a horse downtown in a small parade on Wednesday to officially declare October as All-American Quarter Horse Congress Month in the city. According to a report from the Columbus dispatch, Mayor Coleman attended the show for the first time in 2011 and decided to start a new tradition this year.
The Cinch Freestyle Reining competition is one of the highlights of this year's show. The spectator favorite often includes costumes, props and fun music. The freestyle will take place on Saturday, Oct. 13th at 7 p.m. and requires a separate ticket. The event is expected to sell out.
The Equine Chronicle Masters Event, which takes place on Saturday, Oct. 27 at 7 p.m., showcases the most talented 2-year-old show prospects for the western pleasure and hunter under saddle divisions.
On Sunday, Oct. 21, one of the most influential Quarter Horse sales of the year will take place at the Congress Super Sale. The sale has been an important component of the Congress since its inception, and this year approximately 200 show horses, prospects and breeding stock are expected to go through.
A series of educational lectures will take place alongside the competition and other fun events. Veterinary topics include managing skin diseases, feeding young horses, treating hoof infections and soundness in performance horses.
Aside from the Cinch Freestyle Reining and the Equine Chronicle Masters Event, all show and trade fair events are included in a parking fee. The parking fee is $15 Mondays- through Wednesday and $25 Thursdays through Sundays.
The show is also being broadcast live online for free viewing. Videos from Congress will be available to view after the show has ended until Nov. 10, 2012. Learn more at WOHAT.com.