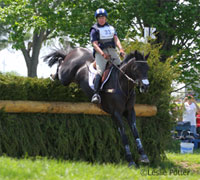 Karen O'Connor, shown here with Quintus 54 at the 2010 Rolex Kentucky Three-Day Event, is recovering from a fall at the Morven Park Horse Trials on Oct. 6. Photo: Leslie Potter
One of America's most well-known riders is scheduled for surgery today to stabilize her back after sustaining fractures in two vertebrae. Karen O'Connor, 54, had a rotational fall from her horse Veronica at the Morven Park Horse Trials in Virginia on Oct. 6 and was hit between the shoulder blades, causing a burst fracture in one vertebra and a compression fracture in another.
O'Connor remained in the hospital for a few days, but was allowed to return home on Oct. 11 after being fitted with a brace. On Wednesday, she went in for a follow-up appointment where doctors discovered that one of the vertebrae had slipped and would need surgery to be stabilized. The surgery was initially scheduled for Thursday, but was postponed another day due to an emergency surgery for another patient.
Doctors expect a full recovery with time and rest. Veronica was reported to be a bit sore after the accident, but sustained no injuries and was reportedly turned out in her field and doing fine a day later.
O'Connor's husband David, the new chef d'equipe of the U.S. eventing team, has been busy at Boekelo in the Netherlands, and now at the Fair Hill Horse Trials, but was able to come home in between. Karen told Samantha Clark of Eventing Nation that she's had a steady stream of visitors helping her during her downtime.
"When you have a big farm, or a big operation like this, this is when everybody pulls together. It's a fascinating time and a really great time for everybody to remember how close you all are. Everyone has stepped right up. It's been wonderful, I'm very grateful."
O'Connor has been one of America's most formidable eventing competitors for many years. Her resume includes medals from the 1996 and 2004 Olympics, the 2003 and 2007 Pan-American Games, and the 1998 World Equestrian Games. She was part of this year's U.S. Olympic team in London and was the only American to finish in the top ten individually.
To keep up with O'Connor's recovery, visit the O'Connor Event Team Facebook page. Well-wishes can be emailed to getwellkaren@oconnoreventteam.com.