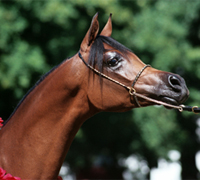 North America's most prestigious Arabian horse show kicked off its 2012 edition on Friday, Oct. 19. The U.S. National Arabian and Half-Arabian Championship runs through Oct. 27 and features something for everyone.
In America, Arabian show horses are often associated with saddle seat, western pleasure, hunter pleasure and halter classes. These divisions will be ongoing throughout the show's run, but driving, reining, trail, and working cow horse classes make for a well-rounded spectator experience and a showcase of the breed's versatility.
National titles for Arabians and half-Arabians in the English sport divisions such as dressage and show jumping were contested at September's Sport Horse Nationals.
Arabian horse enthusiasts have a variety of classes that are unique to the breed. Native costume brings exhibitors in elaborate, Arab-inspired costumes into the ring to showcase their turnout and gaits at the canter and hand gallop. Show hack requires horses to show refined obedience as they are asked to perform collected, normal and extended walk, trot and canter as well as the hand gallop. The popular liberty classes give spectators the chance to watch Arabians moving freely and without tack to music of the exhibitor's choosing.
All of the classes are available to view live online at ArabianHorseGlobal.com.
This year, past Cavalia star, Sylvia Zerbini, will have performances on Oct. 25, 26 and 27. Zerbini will be performing her acclaimed Grande Liberte performance with her Arabian horses. She will be available for autograph signings after the performances, and fans can register at the show for a chance to win a backstage pass to meet Zerbini and her horses.
Watch highlights from Sylvia Zerbini's liberty performance at Equine Affaire below.
From Oct. 25-27, U.S. Nationals will host the popular Total Arabian Interaction and Learning (TAIL) Program. Visitors can register for the program which will give them the opportunity to meet some Arabian horses, learn from experts, and take a tour of the show grounds.
Spectators are admitted free through Wednesday, Oct. 24. Tickets for the show from Oct. 25-27 are $10 for adults, $7.50 for seniors and students and free for children under 12.
To learn more about U.S. Nationals, visit ArabianHorses.org, or to view the live webcast, visit ArabianHorseGlobal.com.