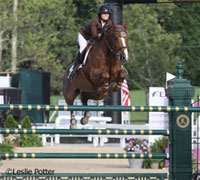 Reed Kessler, shown here with her Olympic mount, Cylana, is one of the top show jumpers who will be competing at the 2012 Washington International Horse Show. Photo: Leslie Potter
For 54 years, the Washington International Horse Show (WIHS) has been one of the country's most prestigious horse shows. Today, it is one of the few remaining urban horse shows and continues to run in the heart of the nation's capital. The show's prominent location has made it a destination not only for equestrians and fans, but celebrities and politicians as well.
The WIHS kicks off Tuesday with hunter classes, including the WIHS Children's & Adult Hunter Championships in the evening. Special events continue throughout the show's schedule until its conclusion on Sunday. Some of the highlights include:
Thursday: Barn Night and $20,000 Gambler's Choice Costume Class
Riders from participating stables are encouraged to show their barn spirit to win awards including Best Group Spirit, Largest Group, and Best Group Banner. The group that wins the Best Barn Spirit title will win a clinic with Olympic gold medalist Joe Fargis. In the arena, top riders will dress up to navigate a Gambler's Choice course, where they choose their own route to earn as many points as possible.
Friday: $25,000 Puissance
Riders will find out who can jump the highest as they tackle an increasing high jump. After each round, the jump is raised and the riders who went clear in the last round continue on to the next. The last horse-and-rider pair standing wins.
Saturday: $100,000 President's Cup Grand Prix
One of the show's annual highlights, the Grand Prix will feature Olympic veterans, including Beezie Madden and Reed Kessler, as well as other international show jumping superstars competing for the coveted President's Cup title.
Tickets are $15 for adults and free for children under 12 during the daytime shows. Evening performances come in a variety of price ranges. Full ticketing info is available at WIHS.org/tickets.
For those who can't make it to D.C., the WIHS is being broadcast live online at WIHS.org/stream