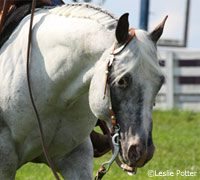 The season of year-end championship shows continues this week with the World Championship Appaloosa Horse Show, an annual celebration of spots in Forth Worth, Texas. Appaloosa exhibitors will be competing for trophies, belt buckles and world titles from now through Nov. 3 at the Will Rogers Equestrian Center.
The World Show offers something for every equestrian taste as Appaloosas compete in a variety of English and western events from hunter under saddle and jumping to reining, barrels and cattle events.
Among the top honors awarded at the World Show is the Nutrena Iron Horse award. This award recognizes an Appaloosa that excels in several different competitive disciplines. Entries must compete in four of the following five categories: halter, western, English, games, and cattle events. Each horse earns points based on their placing in the class, and the entry with the most points will win a $10,000 prize from Nutrena and a custom bronze sculpture by artist Wally Shoop.
The title of World's Best Appaloosa will be contested throughout the show. Horses must compete in at least three of five show categories to be eligible, and the winner will take home one year's use of a three-horse gooseneck trailer with dressing room from Featherlite, a custom headstall and saddle, and $1,500 cash.
A spectator favorite, the ApHC Freestyle Reining on the evening of Friday, Nov. 2, will double as a charity event. The admission fee for that evening's performance is an unwrapped toy or cash donation for Toys for Tots, a program operated by the U.S. Marine Corps Reserve to collect Christmas gifts for low-income children.
The Appaloosa World Sale will run in conjunction with the show. Consignments include yearlings, broodmares, and trained performance and halter horses. The sale will take place on Oct. 31, and prospective buyers can watch the sale online and bid remotely. For more information, visit superiorlivestock.com.
The competition from both show arenas will be broadcast live online. Anyone interested in watching the show can set up an account for a small fee to watch the entire show. For more information, visit appaloosa.com.