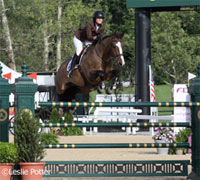 Reed Kessler, shown here with Mika, is one of the top riders slated to compete in the inaugural Hickstead FEI World Cup Jumping at the Royal Agricultural Winter Fair. Photo: Leslie Potter
As show season winds down for most riders in the northern hemisphere, top riders in Canada are preparing for one of the crowning jewels of the show circuit. The fair runs through Nov. 11 at Exhibition Place in Toronto.
This year, the Hickstead FEI World Cup Jumping class, named for the late show jumping legend, will draw some of the top riders from around the world. Among the riders slated to compete in this class is American Reed Kessler, coming off a big win at the Washington International Horse Show Grand Prix less than two weeks ago. The Hickstead Cup will take place on Wednesday, Nov. 7.
Big-name show jumpers will also compete in the Ricoh Big Ben Challenge, named for another great Canadian show jumper. This $60,000 Grand Prix will take place on Saturday, Nov. 10. Past winners of this class include Americans Margie Engle and Laura Kraut and Great Britain's Michael Whitaker, who won the class for three years straight.
A unique event at The Royal is the Canine-Equine Challenge. A horse-and-rider team pair up with a SuperDog in a relay-style race. The horse completes a show jumping course, and upon finishing, the dog navigates an agility course located in the center of the arena. The fastest finish wins the title.
Dressage will get its time in the spotlight, too, with the Royal Invitational Grand Prix Dressage Cup. Four top Canadian riders will compete, including last year's champion, Olympian Ashley Holzer.
Other equine activities include: the Ontario Toyota Dealers Rodeo; the Hackney, Road Horse and Draft Horse driving show; the Spirit of the Horse breed and discipline demos; and the EquiMania educational exhibit for kids.
The Royal is a full-fledged agricultural fair, and there are plenty of activities outside of the horse events. Livestock judging, chef competitions, a harvest market and even rabbit jumping competitions will round out the event.
For more information including how to purchase tickets, visit RoyalFair.org. To watch the show live online, visit www.todocast.tv.