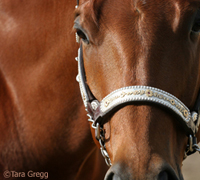 Even after nearly a month at the All-American Quarter Horse Congress in October, AQHA exhibitors aren't ready to hang up their spurs for the season just yet. The AQHA World Championship show is currently under way in Oklahoma City, where it continues through Nov. 17.
The
American Quarter Horse's
specialty is western riding and cattle work. Those disciplines will be well-represented throughout the show, along with western pleasure, trail, speed events and reining. However, the English side of the breed will be showcased as well with hunter under saddle and jumping classes throughout the schedule.
One of the breed's most coveted awards, the Superhorse title, will be determined during the World Show. This honor recognizes a Quarter Horse that demonstrates superior versatility, and dates back to the show's fifth edition in 1978. That year, a 4-year-old mare named Vickie Lee Pine was named the first AQHA Superhorse after winning the most points in three or more events.
The Farnam Select All-Around Amateur Award is one of the highest honors an amateur Quarter Horse exhibitor can achieve. The winner of this prize will be determined by their placings showing the same horse in at least three events in at least two categories. The winner will receive a cash award and horse products from Farnam, a bronze by artist Lisa Perry, an embroidered blanket from Weatherbeeta and a rose bouquet.
For more information and to watch the show online, visit http://www.aqha.com/worldshow
AQHA World Show by the Numbers
Total number of horses entered: 2,156
Countries represented: 10 (U.S., Argentina, Austria, Belgium, Canada, Germany, Italy, Mexico, United Kingdom, and the Netherlands)
States represented: 49
Total number of western entries: 2, 573
Total number of English entries: 386
Total number of halter entries: 670
Top five classes based on number of entries:

Open Ranch Sorting: 162 entries
Amateur Ranch Sorting: 150 entries
Amateur Team Penning: 126 entries
Open Team Penning: 123 entries
Senior Trail: 97 entries