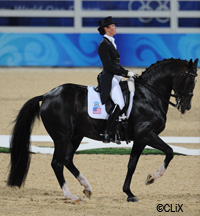 The equestrian world celebrated its heroes last week at a glittering gala evening in Istanbul, Turkey.
HRH Princess Haya, President of the Fédération Equestre Internationale (FEI), the world governing body of horse sport, congratulated the winners of the FEI Awards 2012. Addressing an audience of more than 300 guests, including representatives of the FEI's 132 member federations, FEI sponsors and Turkish VIPs, the FEI President said:
"The FEI Awards were launched in 2009 to show the world what extraordinary people there are in the equestrian community and to reward them with public recognition of their work. This year's winners have demonstrated talent, commitment, generosity and courage and we are extremely proud of them."
The winners of the FEI Awards 2012 are:
Michael Jung (GER)
Reem Acra Best Athlete Award
Thomas McDermott (AUS)
HSBC Rising Star Award
Shumbashaba-Horses Helping People: Sharon Boyce (RSA)
Development Award
Celia Rijntjes (NED)
Best Groom Award
Courtney King-Dye (USA)
Against All Odds Award
Four of the five winners of the FEI Awards 2012 winners flew to Istanbul to attend the awards ceremony, during which multiple-award winning Turkish TV presenter and producer Defne Sarisoy shared the Master of Ceremonies role with FEI Director of Non-Olympic Sports Ian Williams.
Reem Acra Best Athlete Michael Jung was unable to be present due to other commitments, but a video message from the Olympic, world and European champion was screened during the ceremony.
About This Year's Winners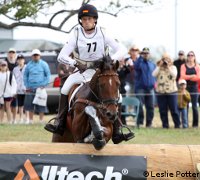 Reem Acra Best Athlete Award
Michael Jung (GER)
Michael Jung turned 30 on 31 July 2012, the day he became the first rider to simultaneously hold Olympic, European and World titles and contributed to Team Germany's Olympic gold medal. A month earlier, he had triumphed at the penultimate leg of the HSBC FEI Classics™ at Luhmühlen (GER), going on to finish in fourth place on the final leaderboard of the same series.
In August 2011, Michael was crowned European Champion and led Germany to team gold at the HSBC FEI European Eventing Championships, again in Luhmühlen.
Michael, who topped the HSBC FEI World Cup rankings in 2010, the year he won the individual World title at the Alltech FEI World Equestrian Games, is reputed as an outstanding and sympathetic horseman, who is also successful in Grand Prix level Jumping and Dressage.
HSBC Rising Star Award
Thomas McDermott (AUS)
Thomas McDermott's meteoric rise to success on Australia's elite Jumping scene has been impressive. Not only has his talent earned him Equestrian Australia's Young Athlete of the Year title for the second time, he is also the first athlete in his country to become both National Junior Champion and Young Rider Champion. In addition, he holds the National Young Rider of the Year title for the second year.
In 2011, Thomas enjoyed success on the senior circuit, competing at Gawler, South Australia in his third Jumping World Cup qualifier and winning it. This year he has followed up that victory with a second World Cup qualifier win at the Sydney Royal Show.
After three months' training in Germany this year with acclaimed trainer Gilbert Bockmann, Thomas took the Young Rider and Senior titles at the Australian Jumping Championships in September – another feat that no other young athlete in his country has achieved. The future of this rider, who competed in the inaugural Youth Olympic Games in Singapore in 2010, could not look brighter.
Development Award
Shumbashaba-Horses Helping People: Sharon Boyce (RSA)
Sharon Boyce founded Shumbashaba more than 20 years ago as a therapeutic riding centre for people with special needs. Over the years, its activities diversified to include equine-assisted psychotherapy and learning.
This non-profit organization improves the quality of life of seriously disadvantaged people in the township of Diepsloot near Johannesburg, often working in partnership with government departments and non-profit organizations operating there.
Its ground-based programs have had a positive impact on teenagers faced with poverty, limited educational opportunities and unemployment by teaching them to relate to others, their environment and themselves on the basis on awareness, integrity, respect and trust. Children with disabilities from these communities, who have limited access to health facilities and treatment, benefit enormously from Shumbashaba's therapeutic riding program.
Shumbashaba's services range from non-riding "Youth at Risk", "Trauma recovery and victim support" and "Substance abuse and eating disorder" programs to psycho-educational riding and therapeutic riding and disability sport for people with disabilities.
Best Groom Award
Celia Rijntjes (NED)
Celia Rijntjes has groomed for Swedish Jumping rider Rolf-Göran Bengtsson for 13 years, since they both worked in the Netherlands for 1992 Olympic Team Gold medalist Jan Tops.
Rolf set up his own stables in Breitenburg, Germany in 2003 and offered Celia a job. She has looked after the Olympic silver medalist's top horses ever since.
Rolf is full of praise for Celia. "You could not find a better groom for your horses or to take responsibility for your stables," he said. "She is always on top of things and always puts the horses' needs above her own. I never have to worry one minute about the horses or the arrangements made for them."
Celia has worked at Olympic Games, FEI World Equestrian Games™ and Rolex FEI World Cup™ Finals, among other events, where she has also supported the Swedish equestrian teams. Anders Mellberg, President of the Swedish Equestrian Federation, has praised her reliability and team spirit.
Against All Odds Award
Courtney King-Dye (USA)
Courtney King-Dye took to the saddle when she was nine. Years later, she represented the United States at the Beijing 2008 Olympic Games, and at the FEI World Cup™ Finals 2007 and 2008. Along the way, she became a USDF-certified Dressage instructor and trainer and graduated from Columbia University with a degree in literature.
In 2010, a horse Courtney was schooling tripped and fell. Courtney, who was not wearing a helmet, fractured her skull in the fall and suffered a Traumatic Brain Injury. After four weeks in a coma, she spent three months in hospital re-learning how to walk and talk and the accident still severely affects her coordination and speech.
Courtney advocates educating equestrians on the benefits of wearing helmets through the Riders4Helmets campaign (www.riders4helmets.com).
Although she is still undergoing rehabilitation therapy, Courtney qualified for the US Paralympic Team Selection trials for London 2012. She decided to wait and now aims to qualify for the Alltech FEI World Equestrian Games™ 2014.
Find out more about the FEI Awards at www.feiawards.org.