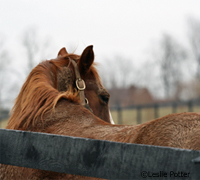 As the holiday season approaches, it's easy to find plenty of equine-themed calendars for the upcoming year. Most of them feature well-bred and well-groomed specimens galloping across green fields or at the height of competition. But another calendar captures the stories of less-fortunate horses.
The Horses and Hope: Faces of Rescue calendar is a project by photographer Sarah Andrew. Andrew documents horses and other equines that come through New Jersey's Camelot Auction as well as at rescue facilities throughout the Northeast. She has photographed thousands of at-risk horses and circulates the photos through social networking to find adoptive homes.
Proceeds from the sale of the calendar are donated to Kentucky-based One Horse at a Time (OHAAT), a charity that assists horse owners in need. OHAAT awards grants to help horse owners pay for gelding surgeries, emergency vet expenses and feed distribution. The group also hosts low-cost gelding clinics and works to educate the public about responsible horse ownership and identifying signs of abuse and neglect.
T
he Horses and Hope calendar is designed and published by Indiana-based HoofPrints.com. The retail price for the 2013 calendar is $19.95 and 100% of the proceeds will be donated to OHAAT.
For more information about the calendar, visit HoofPrints.com. To learn more about One Horse at a Time's programs, visit OneHorseAtATime.org.