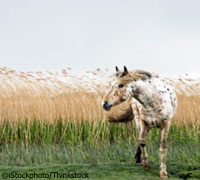 Horses from four separate breed associations once again united and vied for Congress championships in Tulsa, November 6-11, at the Color Breed Congress.
The Built Ford Tough Livestock Complex in Tulsa, Okla. played host to over 600 exhibitors and nearly 2,500 class entries. Exhibitors and horses represented 34 U.S. states and Canada.
Presented by the Pinto Horse Association of America, Inc., the Color Breed Congress encompasses four separate breed shows running simultaneously. Participating breed associations included Pinto Horse Association, Palomino Horse Breeders of America, Appaloosa Horse Club and Ponies of the Americas Club.
In addition to the breed shows, PtHA was proud to present Open/All Breed Western Dressage classes on Sunday, November 11. Exhibitors from all over turned out to support this new and exciting portion of the equine show industry.
Presenting over $65,000 in awards during the show, sample items include medallions from MTM Recognition for 1st-6th place exhibitors in each class and jackets from Tioga Territory to class winners. Glass awards and jackets were presented to the halter grand and reserve champions in addition to saddle/halter bags and Gist Silversmith belt buckles for high points and reserves. In addition to the buckles, the overall high point youth in each breed received a $1,000 scholarship. The scholarships brought the total payouts from the show to nearly $15,000.
"The numerous high quality awards make this show the fall destination for color breeds," said Darrell Bilke, PtHA Executive Vice President and Chief Operating Officer. "We strive to ensure that as many exhibitors as possible can get a piece of the action and have fun while competing."
Keeping with the Color Breed Congress tradition, each day classes were chosen to compete in the Equine Chronicle Hula Hoop Hoe Down. Prize packs were given to the exhibitor who could hula hoop the longest.
"It is a great sight when you can see great competition, but also fun and camaraderie among exhibitors," Bilke said.
The Champion of Champion classes are one of the unique aspects of the show. Exhibitors who place in the top three of select classes in each breed are invited back to compete against each other for Champion of Champion.
"You never know what breed will take home the title," Bilke said. "It is exciting to see each of them showcased at one time."
The Color Breed Congress will return in 2013. Tentative dates are set for November 5-10, 2013, at the Built Ford Tough Livestock Complex in Tulsa, Okla.
For more information about the 2012 Color Breed Congress and for complete results, please visit www.colorbreedcongress.com. To learn more about the Association, visit www.pinto.org.