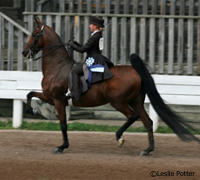 Every two years, the Saddle Seat Equitation World Cup brings the best riders from around the world to compete for the sport's premier international title. Riders from the U.S. have historically dominated the competition, and 2012 was no exception.
At the World Cup finals, held this year from Dec. 4-8, riders compete for team and individual titles in both three-gaited and five-gaited competition. Similar to intercollegiate competition in the U.S., riders at the World Cup ride an unfamiliar horse and have limited time to get to know their mount before being judged in the ring. Riders compete on the rail in groups, then return individually to perform patterns. Saddle seat equitation patterns include elements such as circles, serpentines, figure eights, and may require riders to work without stirrups.
3-Gaited Test Part 1 from Johan Blom on Vimeo.
The World Cup is held every two years and alternates between the United States and South Africa as host countries. Saddle seat riding is an American style, but the discipline has a significant following in South Africa, where American Saddlebreds became popular in the early- to mid-20th century. This year, the competition was held in the small town of Parys, South Africa, southwest of Johannesburg.
This year, the U.S., South Africa, Canada, Germany and Sweden sent teams to compete at the finals. In the past, Great Britain has also been part of the competition. The team medal standings were the same for both the three- and five-gaited divisions: U.S. won gold; South Africa won silver; and Canada won bronze.
To view photos from the World Cup competition and read commentary from the team riders, visit followusworldcupteam.tumblr.com. Learn more about the U.S. team members at USEF.org