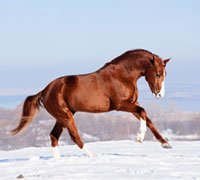 This year was an eventful one for members of the horse community. The excitement surrounding the London Olympics and Great Britain's unprecidented equestrian victories there made headlines. The ever-evolving rules surrounding helmet usage continued to capture riders' attention. And as always, our readers were eager to hear about great equestrian events taking place around the country and the world.
This year also brought its share of sad news as we lost some of our greatest living equestrian and equine athletes. Nevertheless, members of the horse community continue to support one another in difficult times and celebrate the high points. We have lots to be optimistic about in the horse world as we welcome 2013.
Here are the top ten most-read HorseChannel.com news articles from 2012.
10. SmartPak Equine released the list of most popular horse names based on their extensive customer base. You enjoyed finding out if your horse ranked among the most frequently used names, or if you had a unique moniker in your barn.
9. The Morgan Grand National and World Championship Horse Show takes place each October in Oklahoma City. What made this year's news item about the event so popular? Maybe it was the announcement that the show would be available for free live viewing online, or maybe our readers just appreciate this beautiful and versatile breed.
8. One of the most heartbreaking stories of 2012 was the loss of young Paralympian Jonathan Wentz. This 21-year-old college student and dressage rider fulfilled one of his lifelong dreams, competing at the London Paralympics in September. On October 1, he passed away suddenly and unexpectedly, leaving his family, friends and fans with the memory of his inspirational spirit.
7. Helmet rules for riders have tightened up considerably in recent years for all disciplines. On April 1, 2012, the existing helmet requirement for hunter/jumper riders at United States Equestrian Federation shows was extended to any rider mounted on any horse on the grounds. Our news item on the rule change along with a brief history of USEF helmet rules captured reader attention.
6. With the excitement leading up to the 2012 Olympics, HorseChannel.com visitors wanted to know more about the horses and riders who would be representing the U.S. in London. Our infographic illustrating some facts and figures about the U.S. equestrian team was a hit.
5. Fans of Olympic dressage rider Courtney King Dye have followed her story closely since the 2010 riding accident that left her with a traumatic brain injury from which she is still recovering. This spring, visitors were excited to hear the news that she'd found a new mount to bring her back to competition in the para-dressage discipline, a gelding she named Make Lemonade. (An epilogue: Make Lemonade did not turn out to be the para-dressage mount they'd hoped he would be. However, Courtney is now working with a new mount, a Paralympic veteran named Rosie.)
4. In May, three horses in training with American eventer Michael Pollard were lost in a tragic trailer accident near the Pollards' farm. VDL Ulando H died at the scene. Icarus, one of Pollard's top horses, was euthanized the following day due to his injuries. One day later, Jude's Law, a horse expected to recover, took an unexpected bad turn and was also euthanized. Three other horses were in the crash, but recovered.
3. More tragic news from the world of three-day eventing made the number three spot. Olympian Amy Tryon, just 42, passed away unexpectedly in April at her home in Washington state. Tryon was a veteran of international eventing, having competed in the Olympics in 2004 and 2008 as well as the World Equestrian Games in 2002 and 2006.
2. Eventing news also made the penultimate spot on our list, but this time it was positive news for fans of the sport. Our readers were excited to learn that the 2012 Rolex Kentucky Three-Day Event would be broadcast in full online and in part on NBC networks.
1. No surprise here. Our most popular news item from 2012 was our continuing coverage of the 2012 London Olympic and Paralympic Equestrian sports. You followed along each day as we brought results and photos from dressage, eventing, show jumping and para-dressage. While it wasn't a banner year for the Americans, we could still cheer for the home team, Great Britain, as they dominated the podium in front of a very appreciative home-town crowd.