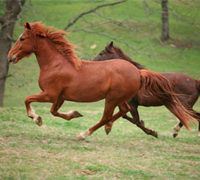 Horse Expo Pomona promises to be a fun-filled gathering of like-minded horse enthusiasts January 31st through February 2nd, 2013 (Thursday-Saturday) at the Fairplex in Pomona, California.
"We have a really remarkable line-up of clinicians," comments Horse Expo Pomona founder Miki Nelsen, "and of course the best equine-related shopping extravaganza that you could imagine. What we're also bringing to these three action-packed days is really unique and festive.
"Once again we're featuring an outstanding juried art show, Trail Symposium, breed demonstrations, the Young Rider Park," continues Nelsen, "and the Book Corral, which was over-the-moon popular last year. People loved meeting the authors up-close-and-personal, taking pictures with them, and getting their autographs."
The art show reflects the lifestyle and passion people have for horses. One expo attendee from last year wrote, "I found exactly the piece of art I've been looking for to hang in my living room, and I've been searching for about three years! And then there it was at the Expo art show — and believe it or not, it looked just like my grandfather's farm and red barn, with an inquisitive-looking pony in the foreground, just like the one I rode as a youth! I could not have been more thrilled. The prices for the art work were really reasonable, unlike at many art galleries, and there was quite an array of pieces, from charcoals to sculptures to oils. I'm going back again next year!"
The Expo's Young Rider Park will again feature fun projects for youngsters, with visits from some of the clinicians to entertain them and from authors who will read to the young cowboy and cowgirl hopefuls. A petting zoo will again complement the Young Rider Park, sponsored by Young Rider Magazine.
The Book Corral is a marvelous universe of authors and their creations, punctuated with informal talks from many of them. The authors are pleased to take time to chat with Expo attendees, and gladly autograph their books. From the famous to the will-be-famous, these authors have a depth of stories to share.
Breed demonstrations are great fun to watch, resplendent with polished horses and riders in costume. Learning about various breeds is part of the educational purpose of the Expo, and what could be better than to watch the horses "strut their stuff" and to talk with owners, breeders and handlers about the intricacies of each breed.
The Trail Symposium provides an array of educational demonstrations, from cooking over a campfire to "leave no trace" camping with horses. In addition to the "how-to" topics, presenters will discuss endurance riding, competitive trail riding, the preservation and maintenance of trails, trailer repairs and upkeep, and updates from the Bureau of Land Management.
"This Expo is a horseman's dream," smiles Nelsen, "and we hope you can all join us in Pomona, January 31 – February 2 in sunny Southern California."
For more information about this exciting event, visit www.HorseExpoEvents.com.