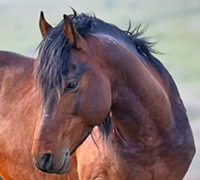 Wild horses and burros on public land in the United States are protected from hunting or slaughter under the Wild Free Roaming Horse and Burro Act. The population of these equines has been managed primarily through their sale at public auction, but this strategy is far from perfect.
Last fall, Dave Philipps, a reporter from ProPublica, wrote an article about
Mustangs
managed by the Bureau of Land Management (BLM) and the sale of those Mustangs to a buyer named Tom Davis. According to
Philipps' article
, Davis had purchased 1,700 BLM Mustangs over the course of less than three years at a price of $10 each. The article also reports that Davis is a public supporter of horse slaughter and has sought support to open an equine slaughterhouse of his own.
Selling adopted BLM horses and burros to slaughter would be a violation of the Wild Free Roaming Horse and Burro Act, and Davis says that he has found homes for the horses he buys from the BLM as companion animals and for film studios. But his story wasn't good enough for the wild horse advocates, who believe that the BLM should be screening adopters more thoroughly before allowing them to take equines.
New adoption regulations announced by the BLM last month may help to curb the sort of large-scale adoptions that may put Mustangs at risk of being resold to slaughter. The new policy states:
Without prior approval from the Assistant Director, no more than four wild horses and/or wild burros may be purchased by an individual or group within a six-month period.
When buying wild horses and/or wild burros, a purchaser must describe where they intend to keep the animals for the first six months following the sale. Without prior approval from the Assistant Director, the BLM will not sell more than four animals destined for a single location in this six-month period, irrespective of who the purchaser or purchasers may be.
Purchasers must provide transportation for the purchased animal from the BLM short-term holding corral or other locations to its new home. The BLM requires stock-type trailers with rear swing gates to transport adopted animals. Drop ramp, divided two-horse trailers, and trucks with stock racks are not acceptable. However, in some situations, two-horse trailers are acceptable for transporting burros and horses 12 months or younger. Only burros may be loaded into in-line or one-horse trailers. Horse trailers must meet these minimum standards:
covered top, sturdy walls/floors, and a smooth interior free from any sharp protrusions;
ample head room;
removable partitions or compartments to separate animals by size and sex, if necessary;
floor covered with a non-skid material;
adequate ventilation.
The BLM will inspect trailers and reserves the right to refuse loading if the trailer does not ensure the safety and humane transport of the animal
The policy is intended to be a temporary measure until a long-term plan can be put into place.
The BLM asks anyone with knowledge of inhumane treatment of adopted equines, or their sale to slaughter to report the incidents at wildhorse@blm.gov or by phone at 866-4MUSTANGS.