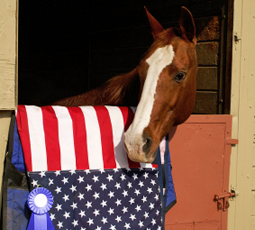 Edited Press Release
In 2012, American Competitive Trail Horse Association (ACTHA) was proud to partner with Horses for Heroes-NM Inc for a nationwide charity trail ride to honor and benefit our service men and women. Commencing in October and continuing into 2013, ACTHA Ride Hosts all across the country hosted Competitive Trail Challenges to raise much needed funds for our nation's wounded warriors.
The Wrangler National Patriot Program pledged to match all donations raised by ACTHA's Ride to Remember, up to $10,000. ACTHA Ride Hosts met the challenge and over $12,000 was raised at Competitive Trail Challenges across the nation, which brought a total of $22,000 to Horses for Heroes-NM Inc.
ACTHA sponsors assisted in the nationwide fundraiser. Cavallo Horse and Rider donated beautiful custom ribbons to every Competitive Trail Challenge. Molly's Custom Silver, Robart Pinchless Bits, Mayatex Saddle Blankets and Favorite Cowgirl Coffee donated product that was awarded to both Ride to Remember ride hosts and riders.
Rick Ianucci and Nancy De Santis, Directors of Horses for Heroes-NM INC shared a very special message with all those who participated in ACTHA's Ride to Remember. "It was indeed our honor to be selected as the beneficiary of ACTHA's Ride to Remember. When we think about all the folks that took part in their respective rides all across the country it affirms and strengthens our resolve that there is a national community of patriots who understand our mission and the vital and essential role horses play in it. That patriotic community of Competitive Trail Horse folks are truly what puts the 'American' in this ACTHA event, that will now assist in funding the operational budget of our program for combat warriors that have given so much. It will allow us to do things that we had only dreamed about. The athleticism and heart of your riders to saddle up and compete in the frosty months for a cause that you all have deemed so noble is humbling to us, and your individual and collective generosity will never be forgotten by our warriors and volunteer crew. Happy trails and blessings for 2013."
For more information on ACTHA's Ride to Remember or for sponsorship opportunities with the American Competitive Trail Horse Association, please contact Tammy Sronce at tammy@actha.us. For more information on hosting an ACTHA event to benefit your ranch, club or charity, visit www.actha.us.
Horses For Heroes – New Mexico, Inc. is a 501(c)(3) non-profit corporation. Cowboy Up! is a unique horsemanship, wellness and skill-set restructuring program based in Santa Fe, NM free to Veterans and active military who have sustained physical injuries or combat trauma (PTSD) during their time serving our country. From day one Veterans are hands on with horses, beginning with groundwork and progressing to riding, as well as participating in other aspects of ranch life, including working cattle and more importantly experiencing the camaraderie with cowboys who are veterans themselves.