When it comes to versatility, few breeds can compete with the Arabian. Perhaps best known for their dominance in the sport of endurance, Arabians also excel in the show ring. From now through Feb. 24, Arabian versatility will be in the spotlight at the Scottsdale Arabian Horse Show.
Five rings run simultaneously at Scottsdale to accommodate the wide variety of Arabian and half-Arabian classes.
The Wells Fargo Advisors Reining Arena 5 holds the reining and western horsemanship classes.
Arena 6 holds the hunter over fences and jumper classes.
Arena 8 holds trail, cutting, and working cow horse classes.
The Markel Insurance Arenas holds dressage tests, sport horse under saddle, sport horse in-hand and carriage driving classes.
The Ford Equidome Arena and Wendell Arena will hold the majority of the halter, pleasure, equitation and performance classes, ranging from western pleasure and walk/trot saddle seat equitation to hunter pleasure and park. The Arabian's unique native costume and liberty classes will also be held in these arenas.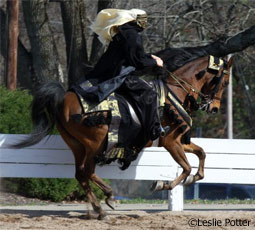 The Ford Equidome Arena, Wendell Arena and Reining Arena 5 are all being broadcast live online. Sign up for the free live stream at iEquine.com.
Outside of the competition arenas, the show has plenty to offer horse fans visiting the Scottsdale area. For five years, attendees at Scottsdale have been given the chance to take barn tours see what goes on behind-the-scenes at a major show. Spectators will also be given the chance to meet Arabian horses up close. Barn tours will be held at 10 a.m. and 2 p.m. daily beginning Feb. 15.
Scottsdale is well-known for its extensive shopping expo. Tack and horse equipment, gifts, artwork, jewelry, western-themed goods and more are part of the trade fair, which is open daily during the show.
Champion western pleasure stallion Sshameless will be on the grounds to meet his fans throughout the show. Sshameless was selected as the Arabian Horse Association's 2012 Ambassador Award winner and the 2013 Breyer Model Horse.
Clinics and demos will be held throughout the show with topics including essential elements of horsemanship, utilizing the natural aids, sport horse basics, and the Scottsdale Police Mounted Unit.
For more information, visit www.scottsdaleshow.com