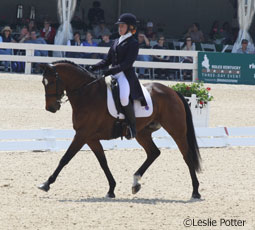 The days of dressage riders in top hats seem like a distant memory, but it was only a few short years ago that helmets were the exception, not the rule, in dressage competition. A revision to the United States Equestrian Federation (USEF) rule book will make top hats even more of a rarity when it takes effect on April 1, 2013.
Helmet regulations for dressage riders have increased considerably after Olympian
Courtney King-Dye sustained a traumatic brain injury
in 2010 when a horse she was schooling stumbled and fell. The high-profile accident brought the long-simmering helmet argument to the forefront and forced equestrian sports to take action on what was once considered a matter of personal choice.
In 2011, the USEF added rules requiring helmets for all dressage riders under age 18 and all riders of any age competing through fourth level. Adult riders at Prix St. Georges and above could still opt for top hats.
This year's rule change, which was approved at the USEF convention in January, mandates protective headgear for any rider of any age competing at any level at a nationally recognized competition. The rule also extends to anyone riding on the grounds of a nationally recognized show, even if they are not competing.
Where the rule stops short is with riders competing in Fédération Equestre Internationale (FEI) sanctioned classes. In those classes, FEI rules dictate what riders are permitted to wear, and the FEI has not yet mandated helmets for adult riders in international-level competition.
The United States has been a driving force in increased helmet regulation over the past few years, but in this case the U.S. is following Canada's lead. Equine Canada, the governing body of equestrian sports in Canada, enacted a rule in January 2012 requiring helmets for all national-level dressage riders.