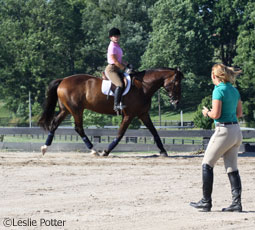 A 2011 study found that a schooling ride of one hour, such as in a riding lesson, burned approximately 360 calories. Photo: Leslie Potter
Could horseback riding be the latest fitness craze? The British Equestrian Federation (BEF) thinks it might be.
A new initiative called "Trot to be Trim" promotes the health and wellness benefits not only of riding, but of working around horses before and after a ride. Proponents of the program say that the process of grooming and tacking up adds to the benefits and exercise that comes from time in the saddle.
"Trot to be Trim" is part of the BEF's Olympic and Paralympic legacy campaign intended to sustain the increased interest in equestrian sports that came from the 2012 London games. The campaign, called "Hoof," is aimed at bringing newcomers to the sport, re-engaging former riders who are interested in riding again, and making horses accessible to inner-city and lower-income schoolchildren. "Trot to be Trim" is a newer part of the campaign, just launched this month.
Just as in North America, Great Britain is struggling with rising obesity rates and health problems linked to weight gain. Typical horseback riding sessions don't burn as many calories per hour as high-intensity cardiovascular workouts such as running or cross-country skiing. However, many new riders find that the fun, immersive experience of being around horses keeps them coming back week after week while other sports are challenging to stick with, and the routine eventually falls by the wayside.
The exact number of calories burned in horseback riding is difficult to pin down as riding sessions vary greatly. A walk-only trail ride won't provide the same fitness benefits as cross-country galloping or extensive posting trot. Based on an average hour-long group riding lesson or schooling session, horseback riding can be considered moderate intensity. A 2011 study by the British Horse Society showed that an hour of schooling burned 360 calories, equivalent to a 10mph bike ride of the same duration.
Veteran equestrians know that time spent around horses is just as good for emotional well-being as riding is for physical health.
"A major aim of the BEF's Legacy project, Hoof, is to inspire more people to become involved in riding and benefit from all that it has to offer," said Andrew Finding, Chief Executive of the BEF. "We want to spread the word that it really is possible to Trot to be Trim, but also to re-emphasize that riding not only helps achieve physical fitness, but it is also therapy for the mind and that it really does put a smile on your face."
For more information, visit hoofride.co.uk
Further Reading
HorseChannel's Guide to Equestrian Fitness