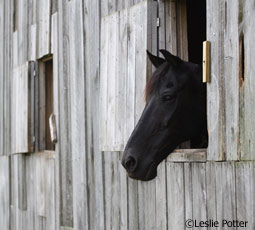 UPDATE 2/27/13 6:00 p.m. EST: The Florida Department of Agriculture released a statement noting that five horses in addition to the original case have tested positive for EHV-1, but have not shown neurological symptoms. All five of those horses are linked to the HITS Ocala show grounds. One other horse not linked to the HITS show has also tested positive for EHV-1.
See the full statement
here
and get up-to-date information at
freshfromflorida.com
.
Quarantined Farms/Premises*
HITS Showgrounds, Ocala – Entire facility
Up Country Farm/Synergy Farm, Ocala
Montera Farm, Ocala
Flutterby Farm, Ocala
Foxwood Farms, Pinellas Park
Black Forest Farm, St. Augustine
Littlewood Farm, Wellington
Brookmore Farm, Oviedo
Kings Ridge Farm, Reddick
New Quarantined Premises:
FEI Tent at Wellington Showgrounds
Tequestrian Farm, Wellington
Redfield Farm, Ocala
Miles Away Farm, Loxahatchee
*The quarantines listed above do not necessarily encompass the entire premises.
UPDATE 2/23/13 12:00 p.m. E.S.T.: Horse Shows in the Sun (HITS) has posted the following update on the EHV-1 case at its Ocala, Fla. horse show:
There is only ONE infected horse. It is doing well and responding to treatment. It has been at the University of Florida – Gainesville for several days.
To squelch any rumors – NO HORSES HAVE DIED.
There have been NO other positive tests.
State borders are open.
The tent where the horse was stabled, Tent 7, is quarantined. Currently, the plan to lift the quarantine for some of the horses in Tent 7 may be as early as 10 days from now.
Regularly schedule classes will continue as usual.
There are no restrictions on the movement of horses on or off the property.
Check temperatures daily. If you have a high temp, call Dr. Barber right away. As of now, all reported temps have not been EHV-related.
ORIGINAL ARTICLE (2/22/13):
A horse at the Horse Shows in the Sun circuit in Ocala, Fla. was shipped to the University of Florida College of Veterinary Medicine in Gainesville on Feb. 20 with symptoms of equine herpesvirus. The horse tested positive for the neurological form of EHV-1.
As of this writing, shows are continuing as usual and the tent in which the affected horse was stabled has been quarantined. Vets are monitoring horses on the grounds. No restrictions have been placed on horses moving on or off the Ocala show grounds. However, the Winter Equestrian Festival in West Palm Beach, approximately 250 miles south of Ocala, has released a statement stating that they have increased biosecurity measures and no horses from Ocala would be allowed on the grounds at this time.
HITS posted the following on its Facebook page around noon on Feb. 22:
"A horse was shipped to UF Gainsville last night with EHV symptoms. The symptoms were confirmed and the horse is stable. The tent where the horse was stabled has been quarantined and all horses are being monitored closely. Any signs of fever will be treated by vets immediately. No restrictions on horse movement on or off the show grounds have been declared at this time."
Learn more about the symptoms of the disease and what precautions to take when an affected horse is in your area in our equine herpesvirus reference guide.
Additional Resources
UF College of Veterinary Medicine
Statement from the Florida Dept. of Agriculture