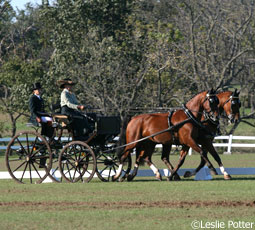 Misdee Wrigley Miller, shown here with her Dutch Harness Horses at the 2009 Kentucky Classic, will be competing for a national title in pairs driving at the 2013 Live Oak International. Photo: Leslie Potter
Edited Press Release
Live Oak International, the only equestrian event in North America to feature both world-class driving and show jumping, takes place from March 20 to 24 at Live Oak Plantation in Ocala, FL. For the first time, live coverage of Saturday and Sunday's events from the Live Oak International will be available for viewing on the USEF Network,
USEFNetwork.com
.
A total of 14 nations will be represented in the show jumping competition, including 2004 Olympic Champion Rodrigo Pessoa of Brazil, and 1996 Olympic team silver medalist Leslie Howard of the United States. Andres Rodriguez of Venezuela, a winner at last year's Live Oak International, will also be in attendance.
Two-time Olympic course designer Leopoldo Palacios will be setting the tracks in the John Deere Arena, one of the few grass show jumping venues in the United States, while Damian Guthrie will manage the show jumping competition with assistance from Spruce Meadows personnel.
While show jumping is being offered for the second year, Live Oak International has hosted international driving competition for more than 20 years. This year, it will offer the highest amount of prize money of any driving event in North America in addition to hosting the United States Equestrian Federation (USEF) National Championship for Pairs. Sanctioned as a CAI-B driving event by the International Equestrian Federation (FEI) and offering single, pair and four-in-hand divisions for horses and ponies, Live Oak International attracts the top driving competitors from across North America. In the four-in-hand division, four entries will vie for top honors, including last year's winner Chester C. Weber, who is also the Co-President of the Live Oak International.
"We are overwhelmed by the amount of support that this year's event has received from both the show jumping and driving communities," said Weber, a two-time World Championship individual silver medalist. "We are in a unique position of having more entries in both disciplines than we can accommodate. With the best athletes in the sport and the addition of live coverage on the USEF Network, those watching in person and from afar will be treated to world-class competition at this year's Live Oak International."
Driving will be held in three phases, beginning with Dressage on Thursday and Friday morning, Saturday's Driving Marathon phase is especially thrilling as carriages negotiate complex obstacles, each individually sponsored. Sunday's driving events feature the all-deciding cones competition. In 2012, over 5,000 spectators turned out to enjoy Saturday's Driving Marathon competition followed by the $50,000 CSI2* Grand Prix for show jumping.
Held at Live Oak Plantation, the private 4,000-acre farm of the Weber family, the Live Oak International is produced by nine-time winner of the USEF Four In Hand Driving Championship Chester C. Weber of Ocala, FL, and his sister, Juliet W. Reid, who led the Washington International Horse Show as President of the Board for the past four years. Offering unparalleled hospitality, competitors will enjoy the fun and excitement of Saturday night's Denim & Lugano Diamonds Exhibitor's Party.
Given the recent concerns over the spread of EHV-1 in the state of Florida, Live Oak International is working diligently with the organizing committees of the Winter Equestrian Festival in Wellington, FL, and the Stadium Jumping competitions in Tampa, FL, to establish protocols and enact biosecurity measures to ensure a seamless transfer of horses between the three venues.
In addition to the competition, spectators can enjoy the Classic Car Show, sponsored by Palm Chevrolet & Kia, as well as a vendor village and the Signature Brands Kids Zone featuring pony rides and a bounce house. Admission is $10 per person, $5 for children under 12, with proceeds benefiting the Marion County Therapeutic Riding Association.
USEF Network Broadcast Schedule for Live Oak:
Saturday, March 23, 2 pm ET – $50,000 Live Oak International CSI 2* Grand Prix
Sunday, March 24, 9 am ET – Gloria Austin Driving Obstacle Competition
Sunday, March 24, 2:30 pm ET – $33,000 CSI 2* Hollow Creek Farm Winning Round
Watch live at USEFNetwork.com.