Animal welfare supporters in Tennessee may soon be able to wear their cause on their bumper. An animal rescue specialty plate featuring a dog, cat and horse will be offered once 1,000 Tennesseans pre-order the plate.
Proceeds from the plate will be donated to various approved organizations around the state that work to rescue, rehabilitate and rehome companion animals. The first organizations will be announced soon via
tnrescueplate.com
. If the plates prove to be popular, other organizations may be brought in as beneficiaries in future years.
If successful, this plate will join a variety of other animal-related plates in Tennessee, including one celebrating the Tennessee Walking Horse.
The popularity of specialty plates has exploded over the past decade, with motorists advertising their favorite hobbies and causes on their cars for an additional fee over the regular cost of registration. Several states already have equine-themed plates available. Here are a few examples.

Colorado
The "Support the Horse" plate in Colorado supports the Colorado Horse Development Authority.
Learn more >>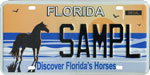 Florida
"Discover Florida's Horses" plates promote the Florida Agriculture Center and Horse Park and support the park's development. The "Florida Horse Country" plate funds programs to assist at-risk youth in the state.

Learn more >>

Idaho
"On the Range" features a cowboy on a dun horse and provides support to the Idaho Rangeland Resource Commission.

Learn more >>

Kentucky
The Kentucky Horse Council's foal plate helps support the council's educational and equine welfare projects.
Learn more >>

Ohio
The "Ohio Horses" plate benefits organizations helping abused, abandoned and neglected equines in the state.

Learn more >>

Nevada
Nevada's "Horse Power" plates benefit the wild horse and burro preservation efforts of the Community Foundation of Western Nevada. Horses are also featured on Nevada's agriculture plate, which benefits the Nevada FFA Foundation and Department of Agriculture.

Learn more >>

Pennsylvania
The Pennsylvania Equine Council's plate helps to support the council's educational, trail stewardship, and youth programs, among others.

Learn more >>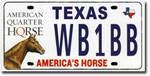 Texas
The America's Horse plates available to Texas drivers support the American Quarter Horse Association which is headquartered there. The American Quarter Horse is the official state horse of Texas.

Learn more >>

Virginia
The "Horse Enthusiast" plate available to Virginians is one of the oldest horse-themed specialty plates in the country.

Learn more >>