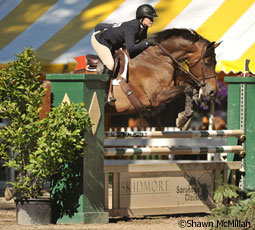 Edited Press Release/Photos by Shawn McMillen

Skidmore College Saratoga Classic Horse Show (SCHS), a World Championship Hunter Rider Event, has typically been a relegated stop on many hunters' schedules. Over the past few years SCHS has been adding jumper classes to accommodate professionals who have clients in both disciplines. Jumpers will be able to compete in the $25,000 Landgero Cup Grand Prix and the $10,000 Jumper Classic, as well as $5,000 1.40 Open Jumper and the $10,500 Junior/A-O Jumpers.
"The Skidmore College Saratoga Classic Horse Show has had steady support from the hunter community over the years. We love and appreciate that segment of our community but also want to welcome those who are focused on the jumpers," said Adele Einhorn, Executive Director of SCHS. "We have made an effort to offer a wide range of jumper classes and hope that more barns will attend SCHS and take advantage of our diverse array of classes on their way to Lake Placid, Canada, or Vermont."
In addition to SCHS expanding its list of jumper classes, they have added the Skidmore College Equitation Show on June 18th. Scenic and shaded show grounds provide an ideal place for families and their children to compete in the short stirrup, pony hunters, children hunters, junior hunters, equitation, and jumper classes.
The $15,000 USHJA International Hunter Derby will be held during the first week of SCHS, which will be a World Championship Hunter Rider Member Event, on Saturday, June 15th in the Jumper Ring. The derby event will include jumps reminiscent of the hunt field, such as a natural post and rail, stonewall, hedges, and logs.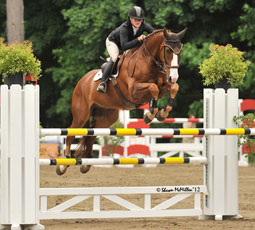 Back for a second year are the TAKE2 Second Career Thoroughbred Program Hunter & Jumper Classes. The program's mission is to promote the value of the Thoroughbred in the sport horse world and highlight the success of Thoroughbreds as show horses. The classes are open to Thoroughbreds only that possess either a Jockey Club certificate of registration, a lip tattoo, or a letter from the Jockey Club verifying their identity.
SCHS takes place in Saratoga Springs, NY, a town rich with tradition, history, and culture. While exhibitors participate in two weeks of AA-rated competition from June 11-23, non-equestrian family members can take in extraordinary shopping, renowned restaurants and golf courses, as well as the National Museum of Racing and Hall of Fame, the Saratoga Automobile Museum, the National Museum of Dance and Hall of Fame, the Children's Museum, and the New York State Military Museum. Make a point of visiting one of Saratoga's famed seventeen public mineral springs. Deer Park Spring, located in Congress Park, is just a short walk from the show grounds. After a long day of enjoying all that the town has to offer, relax in one of the many spas that Saratoga is known for or spark your creative side by visiting the College's Tang Teaching Museum and Art Gallery or the new Arthur Zankel Music Center.
SCHS offers a large array of marketing and sponsorship opportunities at all levels of support. At Skidmore, Creative Thought Matters, and we are happy to meet individual needs by developing customized options for corporate promotion and marketing opportunities, as well as personal donor options. Our mission is to provide you with valuable marketing and meaningful sponsorships. This event is the College's single largest fundraiser and has generated more than $3 million in scholarship support.
For more information please visit: Skidmore.edu/SaratogaClassic or call 518-580-5632/5633.