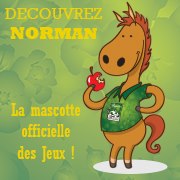 Meet Norman, the official mascot of the 2014 Alltech FEI World Equestrian Games.
On April 8, the organizers of the 2014 Alltech FEI World Equestrian Games (WEG) announced the beginning of the 500-day countdown to the games. The 2014 edition of WEG will take place in Normandy, France, and the opening ceremonies kick off the event on August 23 at the d'Ornano Stadium in Caen.
As part of the countdown, WEG has put out a call for volunteers with the aim of recruiting approximately 3,000 equestrian sports fans to assist at the games. 1,000 volunteers will be trained to assist with the test events that will be held this year in the lead up to the games. Another 1,500 to 2,000 will join in for the main event in August and September 2014. Volunteers will come from around the globe and anyone age 18 and older is invited to apply at
www.alltechfeiweg2014-normandy.com
.
"The 3,000 volunteers will represent the welcoming face of Normandy and will be the first contact that the public has with the event," said Laurent Beauvais, president of the Normandy 2014 organizing committee. "They will live by the values of openness and respect, which are the hallmarks of the Norman edition of the event. They will of course have full training to make them just as professional as anyone else on the organizing team. The London Olympics proved that any event is only as good as its volunteers. They hold the key to making a successful, welcoming and friendly major international event. Our Normandy 2014 'Games Makers' will be the very essence of the event."
As part of the 500-day celebration, the organizers have introduced the official mascot of the 2014 WEG: Norman. According to the announcement from the WEG organizers:
The charismatic captain of the Normandy team is about to trot out of his stable to mobilize all the event's fans. Norman's playful nature means that he'll be our most enthusiastic fan and perhaps a little difficult to 'rein in", but how could anyone resist such a lovable softie!

The 2014 WEG will feature show jumping, dressage, eventing, driving, reining, vaulting, endurance and para-dressage from August 23-September 7. Approximately 100 athletes from 60 countries are expected to compete in front of 500,000 spectators at the games. For more information, visit www.alltechfeiweg2014-normandy.com.