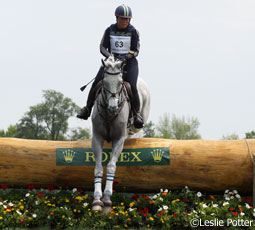 Becky Holder and her Thoroughbred, Can't Fire Me, will be back to compete at this year's Rolex Kentucky Three-Day Event. Photo: Leslie Potter
Held in conjunction with the Rolex Kentucky Three-Day Event, Thoroughbreds for All will bring Thoroughbred enthusiasts and aspiring owners together to learn about working with off-the-track horses. The evening benefits New Vocations, a group dedicated to rehoming ex-racehorses.
Thoroughbreds for All will be held on Friday, April 26 from 5:30 to 9:00 p.m. There are a limited number of tickets available and the event is expected to sell out.
The following speakers and events will be part of this year's Thoroughbreds for All:
Recognition of Rolex Competitors: The 15 Thoroughbreds scheduled to compete at the 2013 Rolex Kentucky Three-Day Event will be honored by the Jockey Club's Thoroughbred Incentive Program.
Selecting Your Thoroughbred: Rolex rider Phillip Dutton along with Dr. Kevin Keane will explain how to look for a sport horse prospect. They will demonstrate the process by evaluating a group of horses at New Vocations and explain their strengths and weaknesses as well as discussing some considerations buyers should remember when considering an ex-racehorse.
What Jockeys Know: Chris McCarron, hall of fame jockey and current director of the North American Racing Academy will share his knowledge earned from a lifetime of experience with Thoroughbreds.
Road to Rolex: Kentucky-based event riders Cathy Wieshchoff and Dorothy Crowell will bring in the ex-racehorses that they are bringing along with Rolex in mind. These horses were showcased at last year's event, so repeat attendees will be able to view their progress.
In addition, visitors looking for their next prospect can view a catalog of available off-the-track Thoroughbreds in the Lexington area.
For more information, visit www.horseadoption.com.