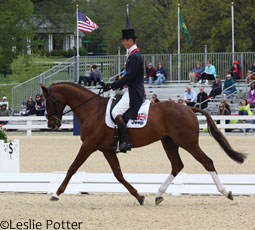 William Fox-Pitt of Great Britain blew the doors off the competition at the Rolex Kentucky Three-Day Event on Friday afternoon. Riding Chilli Morning, a 13-year-old chestnut stallion who Fox-Pitt has only been riding for a year, he put in a beautiful and powerful test that vaulted them easily into the lead with a score of 33.3. However, this should come as no surprise to anyone who follows the Rolex Kentucky event. Fox-Pitt has won two of the last three editions (in 2010 and 2012), and usually posts an excellent finish on any horse he brings across the pond to compete.
"[Chilli Morning] is a lovely horse to ride on the flat," said Fox-Pitt at the end of the day. "We worked particularly hard on the flat this winter and tried to raise the game a little bit more. You need a horse that's as capable as he is to throw that kind of score. He has a great presence; you feel you're capturing the ground jury's attention. He's very uphill and light, very consistent, and has a great temperament. I hope to be in this same position on Sunday!"
Not content to let him run away with the lead, Andrew Nicholson of New Zealand had to settle for runner-up today aboard his second mount in the competition, the nearly jet-black Spanish gelding Quimbo, scoring a 38.0. Nicholson also sits in third with a 40.8 aboard Calico Joe, who notched the best score of the day on Thursday.
"I think Quimbo gave 100%," said Nicholson. "He's only 10 years old, and in these four-star tests, they have to be strong to maintain collection and fluency. I mucked up the last change, but that was totally my fault. I saw the scores on the scoreboard [throughout the ride] and tried to squeeze every mark out of him. I couldn't wish him to be any better."
Somewhat of a surprise to take fourth place out of 45 rides was first-time Rolex rider Alexandra Knowles, a 26-year-old who is currently based out of Paris, Ky., about 30 minutes from the Kentucky Horse Park. Riding her own and Christie Campbell's 14-year-old German mare Last Call, they put in a head-turning test for a score of 43.3.
"She performed incredibly well," said Knowles. "I didn't know what to expect. She has a good disposition and stays relaxed when I stay relaxed, so I focused on keeping her attention on me. I'm incredibly proud of her. She was my first upper level horse, so we've learned together from the start."
| | |
| --- | --- |
| Andrew Nicholson and Quimbo | Alexandra Knowles and Last Call |
| Boyd Martin and Trading Aces | Mary King and Fernhill Urco |
| Buck Davidson and Ballynoe Castle RM | Marylin Little and RF Demeter |
An interesting "what-if" factoid this year is that if Andrew Nicholson goes on to win Rolex, it would put him and William Fox-Pitt in an unprecedented situation. Both of them would be eligible to win the $350,000 Rolex Grand Slam of eventing by winning the Badminton Horse Trials CCI**** next weekend (they will both be entered on fresh horses).
The Grand Slam bonus goes to any rider who wins Rolex Kentucky, Badminton, and Burghley Horse Trials (all CCI**** events; the latter two are in England) consecutively in any order. Fox-Pitt had won two out of three legs going into last year's Badminton, but the event was cancelled due to heavy rains. They decided to make Badminton 2013 the third leg of his Grand Slam due to the special circumstances. However, it could also be the third leg of the Grand Slam for Nicholson if he wins Rolex 2013 after winning Burghley 2012 last fall. So stay tuned for what could be an extra competitive Badminton this year!
Saturday's cross-country course, designed for a second time by Derek di Grazia, looks to be one word, according to all of the riders surveyed: Big. Keep up with live scores at www.rk3de.org, and check out our full report at HorseChannel.com/Rolex2013 tomorrow.
TOP 10 AFTER DAY TWO:
1. William Fox-Pitt (GBR)/Chilli Morning – 33.3
2. Andrew Nicholson (NZL)/Quimbo – 38.0
3. Andrew Nicholson (NZL)/Calico Joe – 40.8
4. Alexandra Knowles (USA)/Last Call – 43.3
=5. Marilyn Little (USA)/RF Demeter – 43.7
=5. Mary King (GBR)/Fernhill Urco – 43.7
7. Becky Holder (USA)/Can't Fire Me – 44.2
8. Bruce (Buck) Davidson Jr. (USA)/Ballynoe Castle RM – 45.2
9. Shandiss McDonald (CAN)/Rockfield Grant Juan – 45.7
10. William Fox-Pitt (GBR)/Seacookie TSF – 46.2