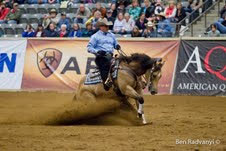 Edited Press Release
Shawn Flarida earned the winner's share of the $100,000 Kentucky Reining Cup at the Kentucky Horse Park, riding Wimps Quixote Cody to a score of 226.5. Andrea Fappani rode Star For The Chicks to second place (224.5), and Tom McCutcheon rode Pretty Peppy Chec to third place (221.0).
This was the third consecutive year that Flarida, of Springfield, Ohio, has won the Kentucky Reining Cup, which began in 2011.
Flarida's high score propelled the Ariat Boots team to first place (657.5) among the six teams. His teammates were Sam Smith, on Mister Dual Train, and Jose Vazquez, on Moonshine Juice. This was the first time Flarida has been a member of the winning team at the Kentucky Reining Cup.
The Apex Ranch team (Tim McQuay, Mandy McCutcheon and Sean McBurney, 652.0) finished second; the Cosequin team (Tom McCutcheon, Dell Hendricks and Mandy McCutcheon, 650.5) finished third.
Half of the $100,000 purse went to the top-placed individual riders, and half went to the top-placed teams.
"I thought tonight I showed him really, really well. He's so quiet that you can really push him on the fast circles," said Flarida, 43, reining's first-ever $4-million rider.
Flarida noted that many of his competitors, including Fappani and McCutcheon and their mounts, had participated in an important show in Texas last week. But Flarida stayed home in Springfield, Ohio, to prepare for the Kentucky Reining Cup. "So he came here rested, and that may have been a bit of an advantage tonight," said Flarida.
Teammate Tom McCutcheon said that he was showing Pretty Peppy Chec for the first time. In fact, McCutcheon hadn't ridden him before he arrived in Lexington. "But he's been a good show horse all his life, and he went through there pretty good tonight," said McCutcheon.
Show manager Brad Ettleman, noting that the starters in the Kentucky Reining Cup had increased from 18 to 24 horses this year, calling it "a benchmark for the sport of reining. We do get the top riders in our industry to come, and I'm sure the prize money helps."
The Kentucky Reining Cup, which is running alongside the Rolex Kentucky Three-Day Event, features an international Three-Star Reining competition and the incredibly popular World Freestyle Championship. Action begins on Friday night, April 26 with the CRI3* with riders guiding their horses through prescribed turns, sliding stops and flying lead changes.
For the third consecutive year, the American Quarter Horse is the "Official Breed of the Kentucky Reining Cup." The competition is also sponsored in part by Paul Miller Ford.
Full results and further information on the 2013 Kentucky Reining Cup is available on line at www.KentuckyReining.com.
See more Rolex week coverage at HorseChannel.com/Rolex2013.