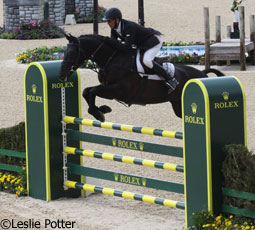 Andrew Nicholson rode Quimbo to victory at the 2013 Rolex Kentucky Three-Day Event. He now has a shot at winning the Grand Slam of Eventing at next weekend's Badminton Horse Trials in England. Photo: Leslie Potter
Capping off a day of show jumping where rails were absolutely flying, New Zealand's Andrew Nicholson left them all up aboard Quimbo to clinch the 2013 Rolex Kentucky Three-Day Event CCI**** championship.
"Quimbo is a very smart horse–very clever," said Nicholson. "He is bred to be a show jumper. At all the big competitions he feels impressive in the warmup, and even better in the ring."
Making him work for the win was British rider William Fox-Pitt, who show jumped double-clear aboard Seacookie TSF but had to settle for second. Fox-Pitt won Rolex last year and in 2010.
Nicholson and Fox-Pitt will face off again next weekend at the Badminton CCI**** (each aboard two different horses), where either one can win the $350,000 Rolex Grand Slam of eventing. Since Badminton was rained out last year when Fox-Pitt would have used it as the third leg of the Grand Slam, he has to win this year's renewal to take the prize. Nicholson won last fall's Burghley CCI**** and this weekend's Rolex, making Badminton 2013 the third leg in the grand slam for him as well.
Watch Andrew Nicholson and Quimbo's show jumping round below.
But it will be no two-man show, since Olympic champion Michael Jung of Germany will also be riding two horses–one of which was his gold-medal mount in London 2012, La Biosthetique Sam FBW. Jung is a force to be reckoned with any time he competes.
"[Badminton] is going to be exciting, although it will probably be neither of us," joked Fox-Pitt. "You need a lot of things on your side to win. We've both had a good prep run this weekend that's sharpened us up nicely."
Nicholson also dropped from second to third aboard his other Rolex mount, Calico Joe, after pulling three rails. "He's no show jumper; he doesn't even jump well at home!" said Nicholson. "But last year he finished fourth at Luhmuhlen [CCI**** in Germany]–he's starting to pay his way in prize money. I bought him from national hunt racing because he wasn't fast enough. He's managed to adapt his own style of going."
The top-placed American rider was Buck Davidson, who finished in fourth aboard Ballynoe Castle RM. His other two mounts, Mar de Amor and Park Trader, finished ninth and twenty-second, respectively.
"Reggie [Ballynoe Castle] has been amazing this weekend," said Davidson. "Of course I was bummed to have two rails down and fall apart a little at the end [of the course], but I feel fortunate to be up here. If I've got to lose, these are two good guys to lose to!"
| | |
| --- | --- |
| William Fox-Pitt and Seacookie TSF | Andrew Nicholson and Calico Joe |
| Buck Davidson and Ballynoe Castle RM | Lynn Symansky and Donner |
Another exciting and competitive Rolex Kentucky Three-Day Event is in the books; now we'll just have to wait another year before we can do it all again. For full results, visit www.rk3de.org. To see all Rolex coverage, visit HorseChannel.com/Rolex2013.
TOP 10 RESULTS AT ROLEX KENTUCKY:
Andrew Nicholson (NZL)/Quimbo – 41.0
William Fox-Pitt (GBR)/Seacookie TSF – 46.2
Andrew Nicholson (NZL)/Calico Joe – 52.8
Bruce (Buck) Davidson Jr. (USA)/Ballynoe Castle RM – 53.2
Lynn Symansky (USA)/Donner – 54.8
Will Faudree (USA)/Pawlow – 57.6
Hawley Bennett-Awad (CAN)/Gin & Juice – 60.2
Kristi Nunnink (USA)/R-Star – 63.7
Bruce (Buck) Davidson Jr. (USA)/Mar de Amor – 64.2
Peter Atkins (AUS)/Henry Jota Hampton – 64.8