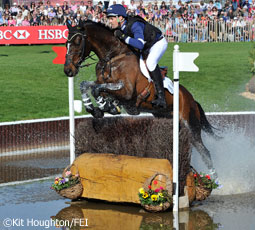 Jonathan ("Jock") Paget and Clifton Promise made a big impression with a win at their first Badminton Horse Trials attempt. Photo: Kit Houghton/FEI
Fans of three-day eventing were calling it a clash of the titans. Two top riders, Great Britain's William Fox-Pitt and New Zealand's Andrew Nicholson were both potential winners of the Rolex Grand Slam of Eventing at last weekend's Mitsubishi Motors Badminton Horse Trials. Followers of the sport looked at 2010 Alltech FEI World Equestrian Games gold medalist Michael Jung of Germany as the biggest obstacle to either contender's victory. But in the end, it was 29-year-old Jock Paget riding Clifton Promise who stole the show with his first-ever Badminton victory.
Jung and his equine partner, La Biosthetique Sam FBW, took the lead after the dressage phase and stayed there with a clear cross-country ride. It looked like he was in the clear to win it all during the final phase, stadium jumping, until a rail came down at the final fence, clearing the way for Paget's victory.
"I've spent time with Michael [Jung] and he is such a perfectionist," said Paget. "When he gets to the last fence you would never expect him to have it down and I heard the crowd cheer and I thought he's a champion – he deserves it. And then I heard the 'arrghh' and I thought 'shoot, I think I've just won!'"
Paget had good things to say about his mount after the competition. "It's the first time [Clifton Promise] has finished on his dressage score at a three-day event. He's always been the type of horse that pulls something amazing out when you need him the most and that's what he did."
Meanwhile, Fox-Pitt and Nicholson's much-hyped battle for the Grand Slam title brought some extra attention to this year's Badminton, even if it didn't end the way either rider probably would have liked. To win the Grand Slam, a rider must win the Rolex Kentucky Three-Day Event, Badminton, and the Burghley Horse Trials in September. Riders can compete on different horses and the events do not have to be won in the same year, but they must be won consecutively. Last year's Badminton was cancelled due to flooding, leading to a once-in-a-lifetime situation where two riders could have won the Grand Slam at this year's Badminton.
The Grand Slam has only been won once in its history, by British rider Pippa Funnell in 2003.
Nicholson, who finished third with Nereo, could take some solace in knowing that the victory went to a fellow New Zealander.
"He's a great boy—a great rider," he said of Paget. "It's great for New Zealand to have someone like Jock in the wings here. It's good for the likes of me and Mark [Todd], who are getting on a bit to have ones like him from our country making us very alert and very focused."
German rider Sandra Auffarth, competing at her first Badminton, finished in fourth place with Opgun Louvo. This horse-and-rider pair are no stranger to high-pressure competition, however, as they already have individual Olympic bronze and team gold to their names from the 2012 London Olympics.
Fox-Pitt and Parklane Hawk finished in a disappointing fifth place, but the stoic rider kept the experience in perspective.
"It is a big relief–it will be nice to return to life as normal–with the phone not ringing all the time and people wanting interviews!" said Fox-Pitt. "It has been an exciting experience and I am very fortunate to have been able to enjoy it and hope it has done a lot for the sport and a lot for Rolex and a lot for Badminton."
View more photos and see full results at www.badminton-horse.co.uk.