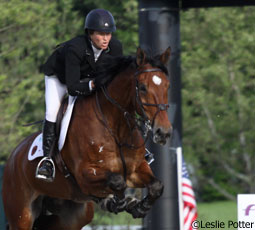 Beezie Madden is one of the riders scheduled to compete at this year's Devon Horse Show. Photo: Leslie Potter
Pennsylvania's famous Devon Horse Show and Country Fair traces its history back to 1896 when locals decided they needed a way to showcase their finest horses. Unfortunately for those 19th-century horsemen, the only people who could see their horses were those in the immediate area. For equestrians competing at the 2013 edition of Devon, their performances will be broadcast to anyone with an Internet connection and an interest in horses courtesy of USEFNetwork.com.
Devon's early history starts with that first one-day show, which grew year after year until it became the country's largest outdoor show in 1914. The Country Fair was added in 1919 and is still a popular attraction today for equestrians and non-equestrians alike. In 1919, the show's organizers also decided that the event would be a fundraiser for Bryn Mawr Hospital. The charity benefit has remained an important part of Devon since then.
At this year's show, one of the biggest attractions will be the Wells Fargo Grand Prix of Devon on Thursday. Three-time Olympian McLain Ward is a frequent Devon competitor, and he'll be back to defend his title this year. Other popular show-ring events include the Gambler's Choice Jumpers on Friday and the USHJA Hunter Derby on Sunday. American Saddlebreds, Hackney Ponies and Friesians also compete at Devon in the evenings.
Watch as Olympians McLain Ward and Antares F compete in the 2012 Grand Prix of Devon.
To see the broadcast schedule and watch the show live online, visit USEFNetwork.com. Learn more about the Devon Horse Show and Country Fair at devonhorseshow.net