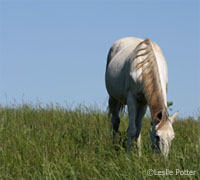 Overindulgence on rich pasture is one of the most well-documented causes of laminitis. Photo: Leslie Potter
Laminitis is a horse owner's nightmare. The painful, potentially debilitating condition has myriad potential causes and no simple solution. In some cases, the cause is unknown. While there are treatment options, the mysteries of the disease mean that no prevention or treatment is completely reliable.
Laminitis, also known as
founder
in severe cases, can be caused by over indulgence in rich grass or grain; repeated concussion on hard surfaces; toxic elements, such as black walnut shavings used as stall bedding; retained placenta in broodmares, among many other causes. In all cases, catching the developing laminitis early is one of the most important parts of limiting its damaging effects. If not treated early, founder can sometimes lead to permanent lameness or even death of the horse.
The American Association of Equine Practitioners (AAEP) launched The Laminitis Project in 2012 to expand existing research on the disease to help better understand it. The project consists of a series of research studies intended to give vets more information on how to diagnose, treat and prevent laminitis.
The first study of the project, currently in progress, seeks recent cases of naturally occurring laminitis. Veterinarians and owners with eligible horses are encouraged to participate by contributing their information. The current research requires cases of laminitis with the following guidelines:
The case is evaluated within four weeks of the onset of clinical signs.
The laminitis was not caused by sepsis, non-weight bearing, or grain overload.
The cases can be caused by unknown factors.
Cases that occur due to corticosteroid administration, pasture exposure, or endocrinopathy.
To learn more about the study, including how to submit information if your horse has had a recent case of laminitis, visit vetmed.tamu.edu/vmth/laminitis or aaep.org/laminitis_project.htm.