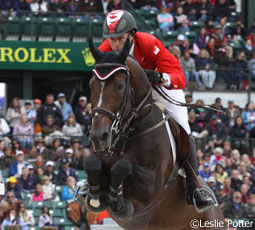 The great Canadian team of Eric Lamaze and Hickstead had some of their greatest victories at Spruce Meadows. Photo: Leslie Potter
On Wednesday, June 5, one of the western hemisphere's top destinations for show jumping riders and fans kicked off in Calgary. The Spruce Meadows Summer Tournament started its five-week run with "The National," which continues through June 9. The highlight of this week's events is Saturday's $400,000 CN Reliability Grand Prix.
Spruce Meadows' management has made several major improvements to the facility since the close of last season's show circuit. The International Ring now has new grass footing on top of a base of sand and fiber. In spite of recent heavy rains in the region, the new footing is said to be in good condition for the beginning of competition.
"The team at Spruce Meadows worked with Leopoldo Palacios, our course designers, and our riders made the decision to enhance the footing in the International Ring based on what was best for the sport and our venue" said Spruce Meadows President Linda Southern Heathcott. "This work is part of our methodical, long-term goals of progress at Spruce Meadows."
The competition will be broadcast online at www.sprucemeadows.com and some segments will air on cbc.ca and CBC television in Canada.
Spruce Meadows is a destination event not just for horse lovers, but as a family event. Pony rides, face painting and games for kids run throughout the day alongside shopping and entertainment.
For more information, including ticket options and a schedule of events, visit www.sprucemeadows.com.