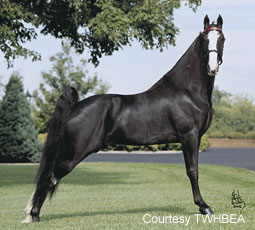 For those outside the Tennessee Walking Horse industry, the exaggerated high, reaching step and stacked pads on the shoes of a performance Walker appear unnatural at best and abusive at worst. But for a core group of fans of the breed, that gait is seen as a mark of a royally bred and trained equine athlete. This disconnect between the die-hards of the Walking Horse show industry and most of the rest of the world has been the heart of an ongoing controversy for decades.
In the mid-20th century, unscrupulous trainers began to employ cruel techniques now known as soring in order to achieve an even higher, more exaggerated gait that drew throngs of spectators and won blue ribbons. By 1970, the problem had become so widespread that a federal law was enacted to try to put an end to it. The Horse Protection Act has been in place ever since, but according to the agencies charged with policing the Walking Horse show circuit, the abuse still occurs.
Earlier this year, Rep. Ed Whitfield (R-KY) and 102 cosponsors introduced H.R. 1518, the Prevent All Soring Tactics (PAST) Act. This bill amends the Horse Protection Act to prohibit action chains, padded shoes, hoof bands and other devices for non-therapeutic purposes. While pads are used to a lesser extent in shoeing some non-gaited saddle seat breeds, the PAST Act only limits their use in three breeds with a history of soring: Tennessee Walking Horses, Spotted Saddle Horses and Racking Horses.
Padded shoes and chains alone aren't necessarily indicators of soring, and a flat-shod horse can still be sored, so the rule change alone would not eradicate the problem. The system of inspecting show horses for soundness before they enter the show ring would continue, and violators would face increased penalties.
The American Association of Equine Practitioners and American Veterinary Medical Association, longtime opponents of soring, came out in support of the bill immediately. But a surprise endorsement of the bill came late last month when Tracy Boyd, president of the Tennessee Walking Horse Breeders and Exhibitors Association (TWHBEA) released a statement supporting the Act.
"TWHBEA has lost members in droves, and the brutal emails I have received tell me why," said Boyd. "It is our reputation. It is soring. It is our image. I believe our modern-day padded show horses are cleaner than they've ever been. The problem is that nobody outside our industry believes it. And when you've lost the public you have lost it all…and we have clearly lost the public."
Most Tennessee Walking Horses are used for trail and pleasure riding, and of those used for show, the padded performance horses are a small percentage. Nevertheless, the horse named "World Grand Champion" of the breed each year is always a padded horse, and the breed's magazines are filled with glossy ads for high-stepping performance horses. The reality of the breed may be the sound and personable trail mount and family companion, but its public face is still the padded show-ring horse that the general public has come to associate with cruel training methods. Boyd acknowledged that this perception would have to change if fans of the Walking Horse want their breed to continue.
"No matter what happens with [the PAST Act], proposed legislation or future versions… the pads and chains do not define this breed," he said. "The Tennessee Walking Horse is the greatest breed in the world. We all agree on that. Just imagine the possibilities that exist for us if we could rid ourselves of this black cloud, this stigma once and for all. Forty-three years is long enough."