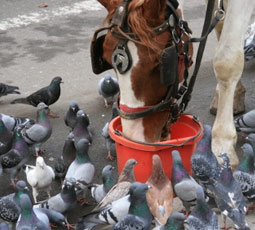 Now that summer is here, millions of people are planning their vacations to destinations around the world. Many travelers will be attracted to diversions that involve horses, such as carriage rides through cities or horseback rides on the beach. Unfortunately, those services are sometimes offered at the expense of the animals' welfare.
The Society for the Protection of Animals Abroad (SPANA), a British charity dedicated to helping working animals, encourages tourists to take a critical look at any horse-related attraction before giving its operator their business. SPANA has made its Holiday Hooves Guide available for free online or by mail to help people understand how to make good choices.
The brochure outlines six tips for selecting well-run animal tours and taking action if you see animals being abused while vacationing abroad, focusing on horses, donkeys and camels. Information covered includes recognizing poor body condition, finding signs of poorly fitting or inappropriate tack, determining how much weight an animal can safely carry, and contacting the proper authorities while traveling abroad for an animal in need of veterinary attention.
While signs of mistreatment or neglect may be obvious to experienced horse people, many non-riders won't recognize signs of trouble. The SPANA's brochure is targeted toward anyone traveling abroad, even those with no horse experience.
To order or download the free brochure, visit SPANA.org.