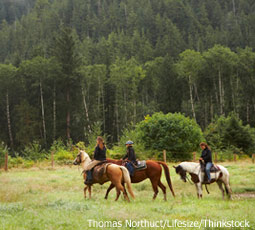 The American Quarter Horse Association (AQHA) along with Tractor Supply Co. is offering grants for equestrian trail development and maintenance. The grant is part of the AQHA's Stewards for Trails, Education and Partnerships (STEP), a program designed to increase rider participation in trail stewardship and promote a positive image of equestrians to land managers and other trail users.
STEP projects can include trail construction and maintenance on public land, trail projects on private land that will be available to the public, equipment needs and educational programs such as Leave No Trace training.
Anyone can get involved in STEP by completing a trail project and registering it with the AQHA. However, to be eligible for a grant, project managers must submit an application with a letter of approval from the land manager or owner by August 1.
Priority is given to projects that fix problems or improve existing trails over new trail building. Educational programs that target youth will have priority over those aimed at the general public.
According to the AQHA, the benefits of the STEP program are:
Help the National land managers recruit volunteers for trail stewardship.
Educate equestrians so they will be effective advocates for trail stewardship in the horse community.
Accomplish maintenance goals for trails and trailheads with land management.
Improve stewardship of land owned by horsemen that are adjacent to or critical to national land.
Build and/or strengthen relationships between local equestrian communities and land managers for the long-term stewardship of trails, trailheads and campgrounds.
For more information on the STEP program or to apply for a grant, visit AQHA.com.
Further Reading
Seven Steps to Save Horseback Riding Trails