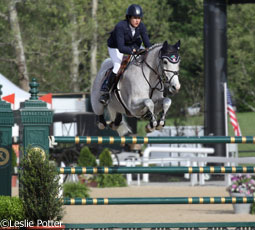 Grand Prix show jumping horses, like Laura Kraut's Cedric, appear to enjoy their jobs. But do horses really like jumping, or are they simply well-trained? Photo: Leslie Potter
Jumping is one of the most popular equestrian pursuits worldwide. Hunter/jumper riders, eventers and fox hunters love the thrill of going airborne with their horses, and many will insist that their horses love jumping, too. But do horses truly like jumping? Or is their willingness to obediently do the job they've been trained to do mistaken for enjoyment by their riders? Researchers in Poland studied this question, and the results were published in the Journal of Veterinary Behavior this year.
The researchers used two groups of horses in their study. One group consisted of 18 leisure horses, not typically used for jumping, and the other was 16 sport horses trained to jump.
In the first test, horses were given two pathways to reach a food reward. One option sent them over an obstacle while the other avoided the jump but required a longer distance. The height of the obstacle was increased with every other trial.
In the second test, the horses were tested under saddle with a Y-maze formation in which one arm of the maze included an obstacle.
The obstacle used in the test was raised to a maximum height of 50 centimeters, approximately 20 inches. In 59.9% of trials, the horses opted to walk or trot over the obstacle, only opting to jump in 10.7% of trials. The horses' willingness to clear the obstacle rather than choose an alternate route decreased as the height increased. When the height was set at 20 centimeters, 85% of the horses opted to go over it. By the time the height reached 50 centimeters, only 44% went over.
The horses in the sport horse group did opt to go over the obstacle more than the leisure horses. This may be due to their prior training, their genetic predisposition for jumping, or a combination of both. However, both groups were less likely to jump the higher obstacles, even though most equestrians would not consider a 50-centimeter obstacle to be a challenge for a trained jumper.
It may never be possible to know whether a horse actually enjoys jumping. The researchers conclude that while horses with training in jumping show more motivation to jump of their own free will, the fact that all horses were less inclined to jump as the obstacle height increased suggests that horses could easily be overfaced during training.
Górecka-Bruzda, Aleksandra; Jastrzebska, Ewa; Muszynska, Anna; Jedrzejewska, Ewa; Jaworski, Zbigniew; Jezierski, Tadeusz; Murphy, Jack. "To jump or not to jump? Strategies employed by leisure and sport horses." Journal of Veterinary Behavior: Clinical Applications and Research Volume 8, Issue 4 , Pages 253-260, July 2013