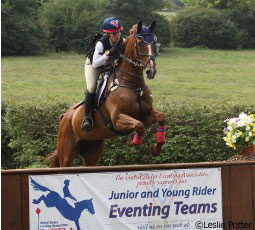 This week, visitors to the Kentucky Horse Park have the chance to see some of the best young riders in North America competing in what could be called a mini-World Equestrian Games. Three-day eventing, dressage, show jumping, reining and endurance are all represented at the North American Junior/Young Rider Championships (NAJYRC), which continues through Saturday.
Each year, the top youth riders from around the continent are selected to represent their home region in their equestrian sport. Riders compete for team and individual honors in what is, for many of these riders, their first experience competing at the Fédération Équestre Internationale (FEI) level.
The NAJYRC is a stepping-stone for young competitors who have the talent and drive to reach the top levels of the sport. Several U.S. Olympians are former NAJYRC competitors, including Karen O'Connor, McLain Ward, Reed Kessler and Adrienne Lyle.
This year's championships kicked off on Wednesday, July 17 and will conclude on Saturday, July 20. The final day of competition will be broadcast live online at USEFNetwork.com. The live webcast schedule is as follows (all times are EDT and subject to change):
7:30am – Jumping Individual Final JR, Rolex Stadium
9:00am – Jumping JR Ribbons. Jumping Course change, Rolex Stadium
9:30am – Reining Individual – Alltech Arena
10:00am – Jumping Individual Final YR, Rolex Stadium
12:00pm – Jumping YR Ribbons – IND Medals, Rolex Stadium
1:30pm – Reining Medals – Alltech Arena
1:30pm – DR JR Freestyle, Rolex Stadium
5:00pm – DR YR Freestyle, Rolex Stadium
Immediately Following – DR YR/JR IND Medals, Rolex Stadium
Find out more about the NAJYRC at YoungRiders.org.
Watch last year's Junior Rider eventing gold medalist, Victoria New with Fleeceworks Mystere Du Val in the video below.
Further Reading
Slideshow: 2012 NAJYRC
Six Facts about the NAJYRC